Enduring pleasure
The Epilogue piece in your last issue ("Forgive Me, Dr. Clark!") brought back memories of my days as a Geology student at McGill. I take my hat off to the author for digesting and memorizing a whole year's textbook in half a night and following this with first class marks! In all the time I spent around universities, I never heard of anything approaching such a feat. As the French say: "Faut le faire!"
I also found it surprising that the author felt a desire to read newspapers in class, for which he was expelled from the room. Times must change, because that would have been unheard of in my days. Dr. Clarke never needed to take any disciplinary action because the way he taught geology made it so interesting - exciting even - that we were all quietly drinking in every word he uttered.
His lectures were music to my ears and I still remember them with pleasure more than 60 years later.
Leo Brossard, MSc'40
via email
Postal people
It is always pleasing to see articles on stamp collecting in non-philatelic magazines. I congratulate you for the interesting article on stamps related to McGill University ("Stamps of Distinction") in the Spring 2003 edition of McGill News. I would like to make two small comments on the article.
The author states on page 23 that Dr. Maude Abbott and Sir John Abbott are "the only family combination to appear on Canadian stamps." There are others. One example, which many of your readers might discount, are the numerous stamps of the Royal Family which have been issued since 1851.
Others, more contemporary, include former Governor General Georges Vanier and his wife Pauline. General Vanier is shown on a 1967 Canadian stamp while Mrs. Vanier appears on one in 2000. A stamp was issued for Louis Joseph Papineau in 1970 while his grandson, Henri Bourassa, beat him to postal honours in 1968. In 1997, a stamp was issued to commemorate the 75th anniversary of Canadian Tire, and the brothers Billes are shown on the stamp. The husband and wife teams of Alphonse and Dorimène Desjardins and Dorothy and Isaac Killam appeared on stamps in 2000 as part of Canada Post's Millennium offering. The list will continue in September 2003 with a series of stamps on Canadian authors. Cousins Ann Hébert and Hector de Saint-Denys Garneau will each have their own stamps in this series while the Strickland sisters - better known as Susanna Moodie and Catherine Parr Traill - will share another. I am sure a more exhaustive study of the more than 2,400 issued by Canada and its provinces would show other family relationships.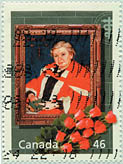 The second of my comments relates to the values ascribed to stamps by your author. On page 24, Mr. McDonagh writes that "the first-ever Canadian stamp, the three-penny beaver that was issued in 1851, is now worth thousands of dollars." This statement is correct if it refers to a mint unused stamp which catalogues anywhere between $12,500 and $45,000, depending on condition and availability. As there are less than a dozen of these mint/unused stamps known, they rarely come on the market. However, a very good used copy can be had for $500 to $600.
Charles J.G. Verge, FRPSC, FRPSL
President, Royal Philatelic
Society of Canada
Ottawa, Ont.
Ed. note: In referring to former Canadian Prime Minister John Abbott and his adopted niece, Maude Abbott, author Patrick McDonagh intended to convey that they were the only McGill alumni with a family connection to appear on stamps. Charles Verge cites Governor General Georges Vanier, and strictly speaking, stamps of Canada's Governors General could have made the cut for the article since the holder of that office is also McGill's Visitor. According to the University Archives, "The function of a ÔVisitor' is to exercise a right or duty of supervision in connection with an educational institution. The Ôvisit'has ecclesiastical origins in the formal inspections by archbishops, bishops and archdeacons of parishes. The extension of this practice to educational institutions carries the duty to represent the founder and or the public or crown interest in the institution."
Readers may recall that current Governor General Adrienne Clarkson, DLitt'01, was present at the March installation of Heather Munroe-Blum as principal to deliver a charge entrusting the Charter and Seal of the University to her keeping. The Visitor ranks above all others at McGill ceremonies, and while she is on campus the Royal Standard flies from the mast on the Arts Building.
News alumna makes good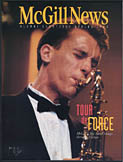 You might like to have an update about a graduate who worked for a time as an editorial assistant at the McGill News. Melanie Rutledge, BA'96, has just been named Head of Writing and Publishing at the Canada Council for the Arts. After graduation from McGill, Melanie went on to work in the book publishing field and was also an account executive at Arts & Communications, a sponsorship agency that creates partnerships between Canadian Arts organizations, business and government.
I have written to her in behalf of the McGill Jazz Orchestra which has been invited to perform at the Rocky Mountain Festival in Banff, Alberta, next April. I hope she'll be able to offer advice on grants which might be available to help pay the band's travel expenses. Ten years ago, I helped raise funds to send a 22-member McGill jazz band to Europe, for performances in Paris, London and Dublin, a trip which became a cover story in the News. In 2000, alumni and friends helped to send Band #1 (there are 3 big bands in the jazz program) to perform at a festival in Mexico.
We hope to get these talented young musicians to Banff, but our ultimate aim is to start a scholarship fund for jazz students, since jazz is the only section in the Faculty of Music without a scholarship fund. We'd like to get this project off the ground in 2004 to help celebrate the 100th anniversary of Music at McGill. Anyone interested in offering help or advice can contact me at gavin.r@sympatico.ca.
Incidentally, I learned of Melanie's appointment from her proud brother, Richard Harris, BA'96, a former captain of the Redmen rugby team. Richard, who has been teaching at the university level in Soeul, Korea, for the past six years, is also the author of four books. His latest is a historical novel set in the period of the Korean War. The McGill News gets better and better.
Gavin Ross
Former Executive Director
of the Graduates' Society of
McGill University (now the
McGill Alumni Association)
Montreal, Que.
Whistler welcome extended
I am a McGill alumna and I live in Whistler, B.C. I have a home here and would like to make it available to all my McGill friends. It is a four-bedroom townhouse at Creekside, a couple of minutes from the gondola and it's ultra-clean and furnished with Quebec pine antiques. (Remember all those antique shops on St Antoine?) Real laid back and private as well.
I have two rooms with one queen size bed in each of them. My guests can have full access to the kitchen, the living room has a nice woodburning fireplace. There's a place for guests to store their skis and equipment, etc. All the comforts of a hotel at a fraction of the price in winter. These rooms are available year round, though.
I want to spread the word that I will be charging a nominal rate for McGill people and their friends and families. As well, I am a Mountain Host here at Whistler and have all the information about local stuff a tourist or weekender may not find. I can also take visitors on tours, FREE! I love to show people how wonderful Whistler is. If anyone would like to call me for more information, my number is 604-938-9998.
Judy Stockton, BEd'83
via email