Taking the Cake
John and Nancy Kellett opened up their home to 100 McGill alumni and friends for the McGill Alumni Association of Toronto's Annual General Meeting and Garden Party held on June 11. The cake shown here was emblazoned with the McGill crest and motto, Grandescunt aucta labore (By work, all things increase and grow).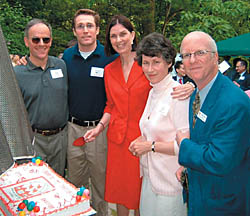 Above from left: John Kellett, BCom'68; President of the McGill Alumni Association of Toronto, Andrew Cole, BSc'96; Principal Heather Munroe-Blum; Nancy Kellett, BA'70, MLS'73; and Director of Development and Alumni Relations for the McGill University Ontario Office Peter O'Brien, MA'85.
A group of friends ham it up for the camera at Toronto's Annual General Meeting and Garden Party.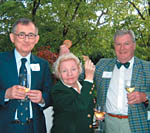 Below from left: Eric de Becker, BA'56, Joyce Hart and Chris Hart, BEng'56.
Brome Annual Dinner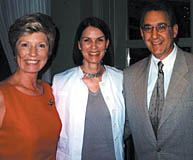 Meeting with Mort
The Faculty of Law hosted an evening in New York in June with guest speaker Mort Zuckerman, BA'57, BCL'61, editor-in-chief and publisher of U.S. News and World Report. The event was attended by more than 100 McGill alumni, including Principal Emeritus Bernard Shapiro, BA'56, LLD'88, a longtime friend of Zuckerman. The publisher, who is also a Trustee of the Institute for Advanced Studies at Princeton and a Member of the Council on Foreign Relations and the International Institute for Strategic Studies, spoke on the topic of "International Security, Peace and Human Rights."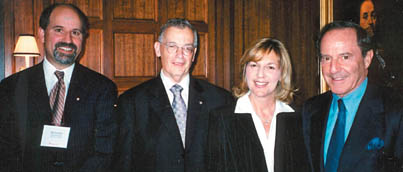 From left: McGill Law professor Richard Janda, BCL'85, LLB'85, Bernard Shapiro, McGill Law professor Rosalie Jukier, BCL'83, LLB'83, and Mort Zuckerman.
Trottier Tour
Members of the Engineering '62 Reunion Class Gift Committee, who raised $300,000 to equip three "intelligent" classrooms in the new Lorne M. Trottier Building, took a tour of the building still under construction. The special classrooms will be decked out with information technology teaching tools like digital smartboards. The Class of 1962 also funded an undergraduate scholarship in Engineering.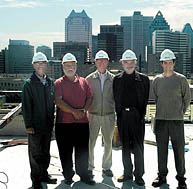 From left: Stewart Bain, BEng'62, Jack Wallace, BEng'62, Brian Bussey, BEng'62, Bill Harker, BEng'62 (Chair of the Fundraising Committee), Jason Finucan, Development Associate in the Faculty of Engineering.
Newsworthy Visit

Chicago-area grads enjoyed a tour of the Chicago Tribune newspaper offices in June. Pictured in the editorial conference room of the 150-year-old publication are Glenn Casbourne, BEng'80, Cristine Santos Casbourne, Jon Anderson, BCL'59, Pamela Anderson, and Les Jackson, BCom'80.
Perfect Checkup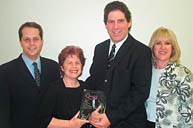 From left: Patrick Murphy-Lavallée and Ronna Miller from the Maimonides Geriatric Centre, with Michael Wiseman, DDS'85, Director of the McGill University Faculty of Dentistry Outreach Program, and Barbra Gold, BSW'76, Executive Director, Maimonides.
The McGill Maimonides Outreach Dental Clinic was the winner of this year's Prix Qualité from the Quebec Association of CLSCs and CHSLDs (local health and long-term-care centres). The award is given in recognition of the exceptional quality of care provided to the community by the outreach clinic, which is run jointly by McGill's Faculty of Dentistry and the Maimonides Geriatric Centre.
Mini Medical Reunion
Some Faculty of Medicine graduates from out west enjoyed a mini-reunion on Vancouver Island in British Columbia this past July.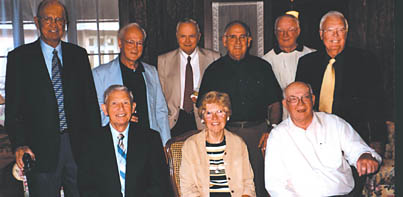 Back row, from left: Dave Blair, MDCM'52, Al Finley, BSc'49, MDCM'53, Gord Irwin, MDCM'52, Bob Marshall, MDCM'52, Gord Thompson, MDCM'52, John Price, BSc'50, MDCM'54. Front row: Chuck Laing, BSc'50, MDCM'52, MSc'55, DipSurgery'58, Peggy Mowat Johnston, MDCM'52, Al Johnston, MDCM'52.
Laughing at the Leacock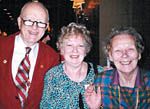 Russ Merifield, BA'38, BCL'41, far left, the oldest surviving past president of the Students' Society of McGill University, and his wife, Helen Merifield, BA'39, right, with a McGill friend at the Toronto Leacock Luncheon held in May. Guest speaker was Jane Farrow, host of CBC Radio's Workology.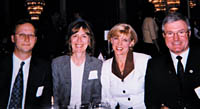 Dentistry grads (at right) joined in the fun as well. Pictured here from left are Dr. John Moles, Barbara Gitnick, BSc'70, DDS'78, Monique Fitch, BSc'74, DDS'79, and Stephen Fitch, BSc'71, MSc'74, DDS'78.
Student Sent Off in Style