Alumni Treasure Hunt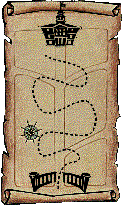 McGill alumni logging on to the World Wide Web will definitely want to surf on over to the McGill website (ww2.mcgill.ca) come April 15. That's the launch date for "The McGill Treasure Hunt" which includes a special competition for alumni. (There are also games for staff and students.) Players must search the McGill web for answers to questions like, "Which McGill Athletics Hall of Fame inductee invented basketball?" Though not confirmed at press time, prizes should include vacation packages, computer equipment, cell phones, CDs, and gift certificates.
Aside from the obvious benefits to prize winners, the University Relations Office -- which developed the game -- says the Treasure Hunt will generate interest in McGill and keep alumni up-to-date.
No love for Latin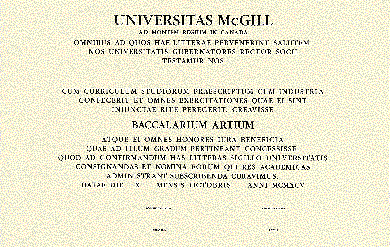 Latin may be for lovers, but American immigration authorities weren't too amorous with one graduate lately. When Philippe-Louis Rochon, MA'97, appeared at the border to get his student visa (to study at the New School for Social Research in New York City), McGill's Latin diploma tripped him up. "The officer asked me what it was. I told him it was a master's diploma from McGill University. He told me he could not read Latin. I pointed out that "UNIVERSITAS McGILL" stood for McGill University. The guard replied: 'This is an English country; come back when you have something in English.' I suggested that it was not a big logical jump to make the connection between the Latin and the English."
Rochon's explanation that magistrum artium stood for master of arts didn't advance his cause. "As far as I know, this could be in arts and crafts,'" the guard told him. Rochon says he was threatened with arrest and escorted by immigration police back across the border. A few days later, he showed up with English transcripts and obtained the necessary paperwork. Rochon notes: "The funny thing about all of this is if the United States is an English country where Latin is officially not accepted, then why do Americans put E Pluribus Unum on their dollar bill as a motto?"
Shapiro blasts business community
McGill Principal Bernard Shapiro, BA'56, LLD'88, delivered a tongue-lashing to the Quebec business community at the Canadian Club of Montreal this past January, stating that he was angry and frustrated over their silence regarding cuts to higher education. Sustaining the quality of edu-cation at Quebec universities in the face of the "draconian reduction of provincial operating grants and the apparent apathy of the public" is proving impossible.
McGill operating revenues have been cut by $48 million (or 22 percent) since 1992, and McGill will sustain another $11 million cut next year.
Further cuts, said Shapiro, "will guarantee an inadequate education for our children" and "a general slide for all of Quebec society into mediocrity.
"You, the community which stands most to benefit from a strong, healthy university system, remain strangely, unaccountably silent," Shapiro told the crowd. "This makes me angry.
"Each of you has a role to play in what will be our common success, or, alternatively, our common failure," Shapiro said, after painting a grim picture of faculty and student recruiting difficulties if things continue along the current path. "If it takes eight to 10 years to develop univer-sity experts and our supply is drying up because we can't afford to hire, where will we be in the year 2008?"
Reaction to the speech has been mixed. The head of the Societé pour la promotion de la science et de la technologie, André Boutin, BEng'57, wrote to the education minister in support of Shapiro's statement. But the president of the Montreal Board of Trade, André Godbout, was less enthusiastic, telling La Presse that everyone is suffering from cutbacks and universities will just have to suffer as well. Nonetheless, Shapiro, who sits on the Board of Trade Executive, was congratulated by the other members of the Executive at their next meeting. Other positive responses, according to Shapiro, concern "putting the problem on the table so that people can understand what is at stake and think of what role they might play in its solution."
There has been no word from Quebec City on the speech. "I'm sure that the government, although silent, got the message," says McGill Director of Government Relations Ginette Lamontagne.
Soccer Redmen win gold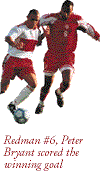 They were the underdogs going into the gold medal game, ranked third in the regular season. If that wasn't enough, a penalty left them one player short for close to the entire match. Despite this, the McGill Redmen beat the Uni-versity of British Columbia Thunderbirds 5-4 in sudden death and captured their first soccer title in 15 years at the national championship, held in Halifax last semes-ter. The top-ranked Thunderbirds had five players from the Canadian Olympic team in their line-up and have 10 national titles, yet they were dominated by McGill.
Chances for gold, however, didn't look so good when Redmen defender Marc Labrom was thrown out of the game for hauling down a Thunder-birds midfielder five minutes into play. But the Redmen kept UBC off the scoreboard for the entire game, including two overtime periods. The match was decided by sudden death penalty shots. Redmen goalie Jason Forsyth dove to stop two of six UBC penalty shots and defender Peter Bryant scored the winning goal, giving McGill a dramatic 5-4 finish. It was a sweet victory for Bryant, whose goal was his only one all season, scored in his hometown with family and friends in attendance.
"More dramatic it couldn't be," said McGill coach Pat Raimondo of the victory. "The boys dug deep out there. It was the sweetest feeling in my life."
Tadja, not Dadja
In "Get the Most Out of McGill" (Winter 1997) we identified the Macdonald campus Faculty Club as Dadja Hall. The Faculty Club is in fact called Tadja Hall. David Stewart purchased the lakefront property for McGill when the Macdonald campus needed a new faculty club. Tadja Hall is named after one of Stewart's prized Himalayan cats.
Music hath charms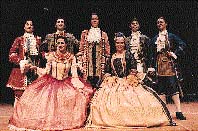 June Rittmeyer was one of many who enjoyed the McGill opera Giulio Cesare in Egitto last fall at Pollack Hall. But what enchanted Rittmeyer just as much as the music were students in the audience, all sitting attentively as the baroque opera was performed. More accustomed to the rambunctious and occasionally rude side of young people -- "I'm used to them banging into me on the bus with big knapsacks," she jokes -- Rittmeyer was so impressed with their talent and polite behaviour that she donated $2,000 towards an emergency fund for McGill music students, even though she has no prior affiliation with McGill and lives off a pension. "I didn't realize how much talent there is and the level of professionalism. People who go into music don't do it for money." Rittmeyer is a former legal secretary with the law firm, Ogilvy Renault.
Students lose lawsuit
Political science student Paul Ruel and the Students' Society of McGill University (SSMU) have had their day in court and lost. Ruel and SSMU sued Education Minister Pauline Marois, the provincial attorney general, and McGill University over Quebec's
differential tuition fees for out-of-province students. While Quebec residents pay an average of $1,668 in tuition fees, Canadians from outside Quebec pay $2,868. The students claimed that the fees are discriminatory and violate the Quebec and the Canadian Charter of Rights and Freedoms.
This February, Judge Pierre Tellier dismissed the students' case. His ruling stated that residency requirements already exist for student loan programs and health insurance. The judge also ruled there was no discrimination on the grounds of nationality or ethnicity, as the students' case claimed.
SSMU President Tara Newell said, "Obviously we're very disappointed in the decision. We were confident we would win, but Judge Tellier bought the government's argument." The SSMU will appeal the decision. The legal battle has cost the SSMU $15,000.
The return of Jake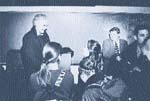 Hollywood producer Jake Eberts, BEng'62, returned to McGill last November as a guest lecturer in English professor Trevor Ponech's class, "Introduction to Film as Art". Eberts treated the 200 student class to a sneak preview of his latest film, The Education of Little Tree. No media were allowed, so the screening was a true preview. The Education of Little Tree depicts a Cherokee boy growing up with his grandparents in the wilds of Tennessee, but it was shot primarily in Quebec. Discussion of the film related it to many of Eberts' previous successes, which include Chariots of Fire, Gandhi, Driving Miss Daisy, Dances with Wolves, Black Robe, and A River Runs Through It.
This was Eberts' first return to a McGill classroom since his graduation. His message to aspiring film professionals? Write a story to teach yourself how it might be portrayed on screen; and follow what's in your head and in your heart, not what you think will sell at the box office.