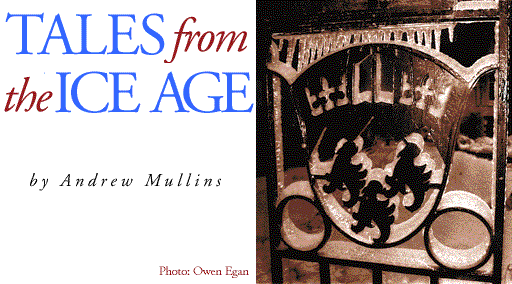 Well, January was never supposed to be a good month for weather. Like most of Montreal, McGill was hit hard by the "Great Ice Storm of '98." Although the University initially put on a brave face, by "Black Friday" -- five days after the freezing rain had started to fall across southern Quebec -- McGill had closed, the city subway system had stopped, schools and stores had shut and even bank machines were inaccessible. Huge sections of the city went dark and lost running water.
Montrealers began to feel the panic that residents of the suburbs and the South Shore, where power had already been off for four days, knew only too well. It was time for black-market-priced candles, batteries, and generators. People picked their way through the icy streets loaded down with cases of spring water. Those who had fireplaces or heated with natural gas were lucky; the rest felt the cold start to take over their houses, and thousands moved into shelters. Huge amounts of ice accumulated on streets and rooftops, and wreaked havoc on electrical towers, which collapsed under the weight of the ice, as did thousands of trees.
The University closed from January 9 to 18. Classes were cancelled, libraries and offices were shut. Staff and students dealt with crises at home and McGill's power supply was drastically reduced to help the hydro system recover. The campus was left to facilities and security staff, who worked tirelessly to prevent costly disasters and ensured emergency generators supplied power for sensitive research projects, such as the Phytotron, a facility atop the Stewart Biology building on Dr. Penfield Ave. that maintains several different environments and a greenhouse for experimental plants. Steve Sura, Director of Facilities Management, says, "My staff were working so much that by the end some of them weren't too sure whether it was Friday, Saturday, Sunday, or Monday."
Electrical power to the University was reduced from 14,000 to 1,000 kilowatts and was used to guard against burst pipes and structural damage, and for key computer systems. One problem, according to Sura, was that "McGill lost power five days into the storm, so we couldn't obtain additional generators by then."
Campus trees were devastated. But at Macdonald campus, John Watson of forest operations says the Morgan Arboretum suffered only between three and 10 per cent damage to trees. The sugarbush will be tapped "full tilt this season," in contrast with other Quebec farms which suffered far more harm.
While the University was officially out of commission, many lent whatever help they could. The McGill Jazz Orchestra packed up and entertained storm refugees at a St. Bruno shelter. Dean of Agricultur-al and Environmental Sciences Deborah Buszard worked with the Westmount Rotary Club and called on McGill contacts to help supply Quebec farmers with a supply of large commercial generators.
"In the space of a few hours we had $200,000 to bring in generators," says Buszard. "The Dickey Moore and Hewett equipment dealers found generators which were quickly delivered to the community by the Union des Producteurs Agricoles."
The ballroom in the Student Union Building was offered as a shelter but shut down later when that building lost power. Power stayed on further up McTavish Street at Thomson House (home of the Post-Graduate Students' Society) where about 30 people stayed for four nights, with more using the shelter during the day. "We gave them free breakfast and supper, and provided them with a continuous flow of coffee," says Operations Manager André Pierzchala.
Meanwhile, when blood supplies ran short at Montreal's overcrowded hospitals, Dean of Medicine Abraham Fuks, BSc'68, MD'70, and students organized a spur-of-the-moment blood drive in the Sir Arthur Currie Memorial Gymnasium. As well, McGill offered up its Gault Estate property in Mont St. Hilaire where the Canadian military set up a communications base.
In the aftermath, two days were added to the winter term, the Easter Monday holiday was cancelled, and the exam schedule was compressed. Costs to the University have yet to be determined, but Steve Sura says insurance adjusters were surprised damage wasn't more extensive. It's a tale of nature's power that McGill won't soon forget.