THE UNEXPECTED WAR: CANADA IN KANDAHAR
by Janice Gross Stein, BA'64, PhD'69, and Eugene Lang, published by Viking Canada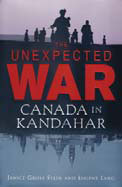 Canada's road to war in Afghanistan was more of a creeping descent than a charge into battle, and coloured more by our fear of snubbing Washington than our terror of the Taliban.
That's the central conclusion of The Unexpected War: Canada in Kandahar, an in-depth exposé by University of Toronto political scientist Janice Gross Stein and Eugene Lang, who served as chief of staff to former defence ministers Bill Graham and John McCallum, PhD'77. The book, which has already won the Shaughnessy Cohen Prize for Political Writing from the Writers' Trust of Canada, was recently shortlisted for the $35,000 Donner Prize for the best book on Canadian public policy.
Stein and Lang portray Paul Martin's Liberal government, in the weeks before sending Canadian troops to Afghanistan, as generally uninformed, sometimes uninterested and altogether unprepared for a resurgent Taliban. The book confirms what many suspected: After a long string of "No" responses to American requests—on Iraq, Haiti, ballistic missile defence and other issues—Ottawa felt compelled to finally say "Yes."
The authors paint a picture of an inept, ineffectual government, desperate for approval from its big brother to the south and wrestling with a bureaucratic morass and near-constant infighting. Its leaders grossly underestimated the awaiting fight, seeing Afghanistan as a reconstruction mission, not a counterinsurgency. With its generals, diplomats and international development staff at loggerheads, Canada was woefully unprepared for a change in plans.
As bleak—and damning—as the book sometimes is, its authors emphasize that a war is not made unjust by the confusion and short-sightedness that give rise to it, and that Canadian troops are indeed doing great things for the millions of Afghans who want them there. Stein and Lang praise Canada's successes in planting the seeds of governance, security and social services in the volatile south. They note too that while Canada's failures so far have been tragic and largely avoidable, the future of Afghanistan remains very much in the balance—and very much in Canadian hands.
MARK ORDONSELLI
---
ROCKE ROBERTSON: SURGEON AND SHEPHERD OF CHANGE
by Richard W. Pound, BCom'62, BCL'67, published by McGill-Queen's University Press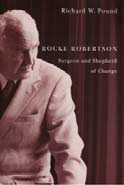 There are leaders whose training, character and life experience prepare them to slip into a job as though it waited only for their arrival. According to Richard Pound's biography of Rocke Robertson, who presided over McGill at a time of enormous political and social turbulence, the demanding role of principal "fitted him like a glove."
Robertson, BSc'32, MDCM'36, was the first McGill graduate and the first Canadian to lead the University. When he succeeded Cyril James in 1962, Quebec was on the verge of political chaos, the first wave of baby boomers was about to flood out of high schools, and McGill students and faculty began to demand a greater voice in University governance.
Over the next eight years, it would require all of Robertson's considerable organizational skills, ability to accommodate change and patience to keep McGill afloat. He reformed the University Senate, and oversaw a 70 per cent increase in enrolment and an 85 per cent jump in staff. McGill's expenditures rose by 187 per cent, campus gained 10 new buildings, and the Faculty of Management was established despite furious protests that McGill would degenerate into a trade school.
Managing all that, Pound says, "would have tested any institution and exhausted any leader even without the vitriolic nature of student demands and the overt discrimination of the Quebec government's funding." (The province awarded half as much per student to McGill as it did to francophone universities.)
Robertson confessed in his journal that the job had indeed left him feeling "exhausted and ancient." The toll was even greater on his wife Roslyn ("much of the stuffing has been knocked out of her"), who feared that Robertson would become the target of separatist extremists (his tenure coincided with the FLQ crisis).
Pound's painstakingly thorough study, aided by Robertson's journals and personal papers, shows the maturing of a gifted and decent man who somehow both transformed McGill and preserved it.
DIANA GRIER AYTON
---
BAR FLOWER: MY DECADENTLY DESTRUCTIVE DAYS AND NIGHTS AS A TOKYO NIGHTCLUB HOSTESS
by Lea Jacobson, BA'02, published by St. Martin's Press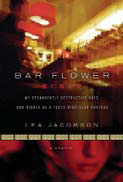 Lea Jacobson has always felt a kinship with Tokyo and its history of devastating natural disasters. Because of her own tumultuous past, she draws inspiration from "the city's resilience, her refusal to be crushed, and even her reckless pride."
Jacobson's captivating memoir Bar Flower confirms the strong-willed author has a lot in common with her adopted hometown. Ironically, these same characteristics set her on a collision course with a culture that values order above all else. Within months of arriving in Japan, the clash of personalities boils over. Jacobson is fired from her teaching job when a local psychiatrist discloses her history of depression and bulimia to her employer. Armed with a still-valid visa, she soon finds work as a nightclub hostess in Tokyo's infamous Ginza strip.
Although they exist on the sex industry periphery, hostesses are not prostitutes. Instead they entertain weary businessmen with a constant flow of flirting, whisky and karaoke. "The customer is the perpetual hunter," she explains, "and the hostess his perpetual prey."
Bar Flower shines because of its deeply human portrayal of the people who inhabit this nocturnal world. Jacobson skillfully chronicles the foibles of these diverse personalities—from the ruthless "Mamas" who manage the clubs to the sometimes abusive clients. Her own brutally honest confessions (she wrestles with alcohol and self-abuse) and insights into Japanese culture make for a compulsively readable narrative.
The journey can be gut-wrenching, but readers will finish the story with a sense of having contributed to Jacobson's recovery. Her epilogue describes how the writing process ultimately provided the perspective she needed to finally seek help. "I never want to have to write a book like this again," she declares. It's a powerful statement that rings with the hard-won understanding of a survivor.
BRETT HOOTON, BA'02, MA'05
---
THE SEXUAL PARADOX: EXTREME MEN, GIFTED WOMEN AND THE REAL GENDER GAP
by Susan Pinker, BA'79, published by Random House Canada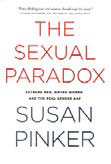 According to Globe and Mail columnist and developmental psychologist Susan Pinker, she had already started writing The Sexual Paradox when former Harvard University president Lawrence Summers issued his controversial remarks about the gender gap in university science departments in 2005. Men are more variable than women in terms of intelligence, Summers mused, with more men at both the high end of the spectrum (physicists and mathematicians, presumably) and the lower end.
Though Summers was forced out amid the ensuing outcry, Pinker argues that current neuroscience research into gender asymmetry is generating many interesting and vital questions that pose a challenge to the notion that "female is just a slightly different shade of male." Are women really the fragile sex, when more men are diagnosed with autistic spectrum disorders?
Why do boys with learning disabilities often become men with impressive careers, while girls who lead their classes become women who opt out of promotions and the upper echelons of their specialties? And, most importantly, will this situation ever change?
It's prickly terrain, but Pinker writes with the same abundance of self-assurance as her famous brother, neuropsychologist Steven Pinker, BA'76, PhD'99, making The Sexual Paradox a popular science page-turner. Largely it argues the case for biological determinism (while not discounting the role played by discrimination) and Pinker does a more balanced job than many "difference" feminists on this important subject.
People who agree with her will find plenty of interesting new research to support their theories. People who don't will find her research selective, sometimes outdated, and occasionally sloppy. One wishes, often, that Pinker wasn't so quick to jump in with conclusions, and more willing to step back and give these questions more time to remain open. Still, if nothing else, The Sexual Paradox is a valuable primer for arguments we will all no doubt be having for some time.
JULIET WATERS
---
LET'S TALK ABOUT LOVE: A JOURNEY TO THE END OF TASTE
by Carl Wilson, BA'89, published by Continuum Press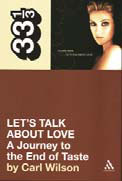 For the last few years, Continuum Press has released a series of books by noted rock critics, each dissecting the merits of such seminal albums as the Beach Boys' Pet Sounds and Radiohead's OK Computer.
The Globe and Mail's Carl Wilson takes a different tack. A very different tack.
He selects Céline Dion's critically reviled Let's Talk About Love and not because he's a closet Dion fanatic. At one point, as he listens to the album again and again in his thin-walled apartment, he admits he's far less troubled by the fact that his neighbours probably hear him when he has sex than he is by the notion that they might now think he's bewitched by "My Heart Will Go On."
While the book is peppered with interesting observations about Céline, her career and how she got to be who she is, Wilson is actually tackling a much bigger subject: What makes something good? Or, more to the point, how do critics determine what is good and what is bad? And why are their tastes so frequently at odds with the millions of people who like to buy Céline Dion albums?
As Wilson points out, novelist Milan Kundera thundered against the sort of sentimental material that Dion regularly produces as being the worst sort of kitsch, the kind that closes its eyes to what is "essentially unacceptable in human existence." What then about music that insists on immersing itself in bleak themes (the music that critics tend to like), music that largely ignores some of the world's happier aspects? Is it really any more representative of what people experience?
Wilson references everyone from French sociologist Pierre Bourdieu to German philosopher Immanuel Kant as he ponders these questions. The resulting book is incisive and hugely entertaining.
DANIEL MCCABE, BA'89