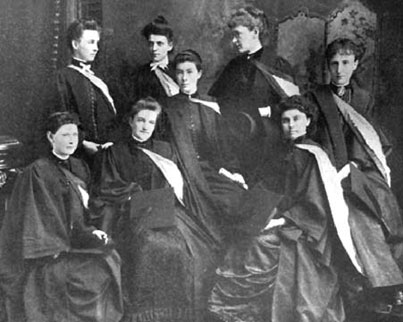 McGill University Archives
Naming Names
While reading the article on the McGill Alumni Association ("True to Their School," Winter 2007/08), I was delighted to see the picture of the first female graduates in 1888, as my grandmother, Martha Murphy, is among that group. I have only seen this photo once before when I was in residence at Royal Victoria College and it was on display for some special event. At that time, my aunt, Martha Dinsmore, was able to identify her mother. Needless to say, I cannot remember! I wonder if you have the list of names to help me figure out which one she is!
Martha Jo Breithaupt, BA'57
Toronto, Ontario
We do have the names of the women who appeared in that historic photo. They are, from left to right, seated in the front row, Alice Murray, Georgina Hunter and Donalda McFee. Sitting behind them are Grace Ritchie and Jane Palmer. Standing in the very back are Eliza Cross, Martha Murphy and Blanche Evans.

Just a note to let you know how much I enjoyed reading this edition of the McGill News. Your article on the Alumni Association was fascinating since I was born and grew up in Montreal. Although I attended many football games in Molson Stadium, I really knew nothing about Percival Molson, including his untimely death in WWI.
I also found Dr. Richard Valeriote's story fascinating ("A Gift Rewarded") since my father also spent a year in a TB sanitarium in Ste-Agathe, yet went on to be a successful businessman. He was very proud to have two sons graduate from McGill and one from Western Ontario.
Thank you for the wonderful lesson about the history of McGill and the people who have helped make it a great university.
Robert Dowie, BEng'61
Los Altos, California

Mac in Mind
Thank you for sending the latest edition of the McGill News. I was particularly interested in the letter from Prosanta Chakrabarty, in which he expresses his warm feelings about "Mac." Those I would happily echo, for I was a student there, for one year taking the teachers' program (1948-49), and then during the month of July for six years ('50, '51, '52 and '57, '58 and '59), during which time I improved my credentials. During the latter three years, I attended the École française d'été, where I qualified for my French specialist's diploma.
I simply loved the place—a wonderful quiet campus where the buildings and grounds were diligently looked after, especially with the cutting of so many acres of grass all summer long.
The "oval" in front of the main building was sacrosanct—no one put a foot on it except on graduation day. Sadly, since John Abbott College has taken over so much of the campus, this is no longer so!
I remember visiting the Mac powerhouse which supplied steam heat for so many buildings. The man in charge told us that on a cold winter day, the furnaces (I had never seen any so big) would burn 50 tons of coal!
Eric Rumsby, DipEd'49
Markham, Ontario

Father: "No" Best
I am writing to commend Mark Abley on his very informative article on Mark Wainberg's "impolite war against AIDS" ("Pulling No Punches," Winter 2007/08), but at the same time to seek clarification on two references. The first is to Wainberg's comment on his meeting with a Roman Catholic priest in the airport at Kisumu, and the second to the last line of the article—"…just as the priest in the airport had feared." Both statements aroused my concern, first at the lack of detail in the writing, and because of that, what the reader is left to infer or conclude. On the first reference, is the reader left to infer that abstinence is not a way of preventing the spread of AIDS? On the second reference, is the reader left to infer that the priest was objecting to any campaign of public education about HIV and AIDS?
Wendell Lawrence, BEng'59
Commonwealth of Dominica, West Indies
As the article relates, the priest at the airport was under the false impression that Professor Wainberg was simply pressing young people to abstain from sex. This was the result of an erroneous report in a Kenyan newspaper which mischaracterized Wainberg's meeting with Kenyan president Daniel arap Moi, who, Wainberg believed, wasn't doing enough at the time to alert his people to the dangers of the AIDS crisis. As Wainberg told the McGill Reporter last year, "Responsible political leaders have to understand that people are not going to abstain just because you ask them to and responsible political leaders have to be willing to discuss condom usage." Given the priest's enthusiasm for what he believed was Wainberg's emphasis on sexual abstinence ("You are the only person telling the truth about AIDS"), we suspect that Wainberg's more nuanced approach would be a disappointment to him. The final line of the article refers to the priest's objection to condom advocacy in particular, not HIV and AIDS education in general.

Good News
I would like to congratulate the editor and staff of the McGill News on the winter 2007/08 edition. It is the best I have seen over the years in terms of the attractiveness of the presentation and interesting content. You have produced an excellent result and your efforts are commendable.
Landon Stewart, BA'69
Ottawa, Ontario

I received the latest McGill News recently and thank you most sincerely. There are always important and interesting articles in it.
Kathy Fabian, BA'82
Montreal, Quebec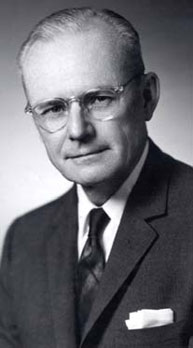 McGill University Archives
A Heroic Physician
I was quite shocked to read of Dr. Stanley Martin Banfill's demise in the McGill News ("In Memoriam," Winter 2007/08).
I was a student of his in 1968/69 in my not particularly successful medical career (I ended up in public health research instead, and have had some respectable success in it).
I always thought fondly of him, his whimsical sense of humour, and the somewhat dramatic stories he told of emergency field surgery methods.
I don't know if he himself actually did any emergency field surgery, but the stories certainly enlivened his lectures and made it easier to remem-ber the practical applications of knowing human anatomy. You never knew when you might have to do an emergency tracheotomy on the street.
I always remembered his favourite dissection tool: a porcupine quill which he hefted with great dexterity and skill as he dissected out a muscle from its fascia in less time than it takes to write about it. All of us students struggling with our scalpels and hacking away awkwardly were quite put to shame.
He was my idea of what a real physician should be like—knowledgeable, kindly and understanding. When I was a student, he seemed infinitely wise and full of the timeless knowledge of the ages. I was stunned to discover that he was only a dozen or so years older than I am.
Manuella Adrian, BA'68
Sunny Isles Beach, Florida
Dr. Banfill's experiences during World War II were indeed dramatic. Serving as an officer in the Royal Canadian Army Medical Corps, Banfill was stationed in Hong Kong when Japanese forces seized the island. He tended to the medical needs of fellow prisoners, many of them nursing serious wounds. During a diphtheria epidemic, Banfill risked beatings from his captors (and a potentially fatal infection) when he continued to attend to his patients at night though it was forbidden to do so. According to the Canada Gazette, "Working always with inadequate supplies of medicines, poor instruments and under extremely bad housing conditions, [Banfill] improvised in company with other medical officers to such good effect that even intricate and delicate operations were carried out successfully." Following the war, he was named a Member of the British Empire in recognition of his devotion to duty.