Western Chic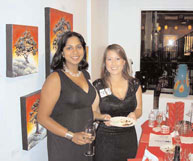 Last fall, the MAA of Southern Alberta hosted a sophisticated soiree at the stylish Axis Contemporary Gallery. Surrounded by the paintings of Calgary artist Chris Bowman, alumni like Vanessa D'Souza, BSc(PT)'98 (left) and Natalya Nicholson, BSc'99, learned how to pair wine and cheese like master sommeliers.
Intrepid Alumni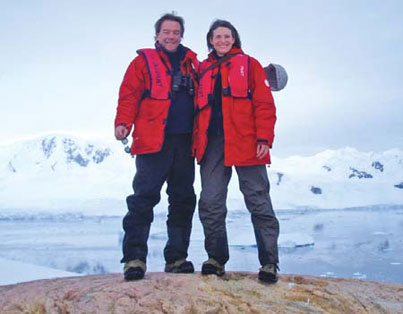 Adventurous McGill grads followed in the footsteps of Scott and Shackleton on an exciting trip to Antarctica in February. Trip host Tina Hobday, BA'88, BCL'93, LLB'93, and her husband Robert Campbell led the group ashore, where they enjoyed spectacular views of the White Continent's rugged coastline.
Leading Ladies

On February 4, the Women's Alumnae Association held its annual scholarship reception at Martlet House. Established in 1932, the group's Scholarship Fund now awards more than $70,000 per year to deserving female students from all disciplines.
A New York State of Mind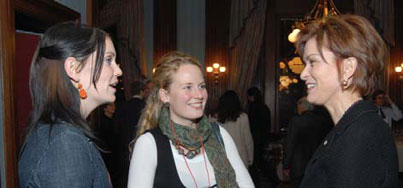 News, AlumniPrincipal Munroe-Blum (right) chats with recent grads Ciara Louise McKeown, BA'03 (left) and Sarah Jane Kennedy, BA'04.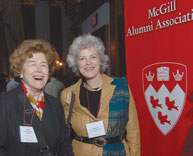 McGill Principal Heather Munroe-Blum wowed more than 200 graduates and friends at a special New York branch reception on November 1. Over the next 18 months, the principal will be visiting branches around the world as part of the "Making History" Tour in support of Campaign McGill.
Atlantans on Ice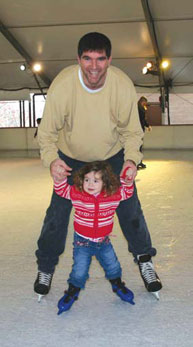 Eric Issa, MBA'98, introduces daughter Leandra to a great Canadian tradition — the skating party. The MAA of Georgia event drew alumni and their families to Atlanta's Centennial Olympic Park on December 8 in distinctly un-Canadian temperatures of 65 degrees Fahrenheit.
Tackling Toronto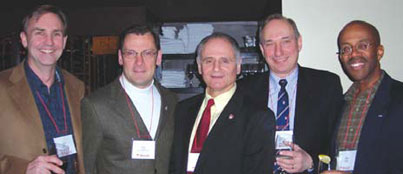 Left to right: Don Charter, BA'78, LLB'81; Lou Ampas, BScArch'85, BArch'86, Sonny Wolfe, Victor Pywowarczuk, BSc'79, MBA'81 and Paul Bernard, BEng'87
Proud supporters of McGill football huddled in Toronto on February 29 to meet the University's new director of athletics Drew Love and Redmen head coach Sonny Wolfe, BEd'76.
Another Reason to Celebrate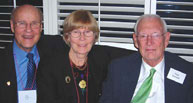 Toronto alumni and friends enjoyed a little extra cheer at their Holiday Party on December 3, when the group wished the McGill Alumni Association a happy 150th birthday. MAA executive director Honora Shaughnessy, MLS'73, was there to hand out a special souvenir history of the organization to attendees, including (left to right) Jim Conrad, BEng'51, his wife Nancy, and Paul Samson, BEng'50.
Southern Hospitality

Dr. Richard I. Levin, Dean of Medicine and Vice-Principal, Health Affairs, (centre, with glasses) visited Emory University in Atlanta in November, where he offered Georgia grads his personal diagnosis of the state of medical education at McGill (very healthy).
Giving it a Whirl
Andres Friedman, BCom'03, and Stephanie Otou, BCL/LLB'07, channelled their inner Shakira at a Montreal Young Alumni Salsa Night. More than a dozen MYA members gathered at a local restaurant for some spicy Mexican food, before heading to a club for even spicier dancing.
Big Hearts in Beantown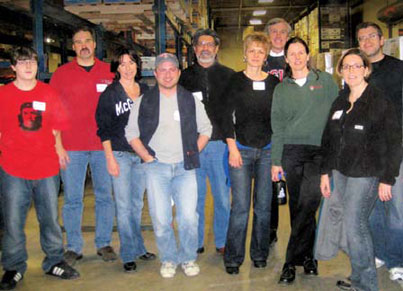 Left to right: Scott Callas, Jeff Callas, BA'83, Debbie Levy, BA'89, Joshua Lakin, BCom'94, Tariq Ghayur, PhD'87, Virga Mohsini, MEd'81, BSW'86, MSW'88, Lindsay Cook, BA'75, Christine Zanella, BSc'89, Marie-Pasquale Morissette and David Roberge.
Boston-area alumni kicked off 2008 by giving back to their community. On January 12, grads and their families dedicated an afternoon to volunteering at the Greater Boston Food Bank. The annual event has become a highlight of the branch's activities calendar.
Hurry! Hurry Hard!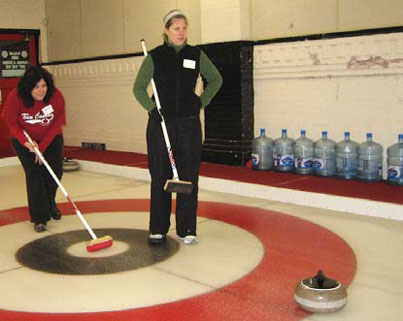 Ottawa Young Alumni Spyridoula Tsoukalas, BA'91, (left) and Melanie Vanstone, BA'98, got an introduction to curling then swept away the afternoon at a local club. They learned the basics of the game— how to throw stones and holler like a pro.