THE SPY WITHIN: LARRY CHIN AND CHINA'S PENETRATION OF THE CIA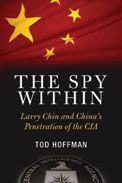 by Tod Hoffman, BA'85, MA'88, published by Steerforth Press
For more than three decades, a Chinese spy infiltrated the CIA and used his privileged position to pass official secrets to Beijing.
Larry Wu-Tai Chin had been one of the CIA's most respected translators. China-related matters of the highest importance crossed his desk, and his "secret" security clearance allowed him access to some of America's most sensitive documents. His primary espionage tactic was low-tech but effective—he simply stuffed classified documents down his shirt, strolled out of the office and photographed them at home.
Over the course of his career, Chin's espionage contributed directly to the deaths of Korean prisoners of war in China and derailed American intelligence-gathering in that country. By all accounts, Chin's penetration was a devastating breach.
When a top-ranking Chinese spymaster defected to Washington, he brought with him evidence of a mole in the CIA. A handful of crack FBI agents began tracking Chin down, and The Spy Within is their story.
Himself an eight-year veteran of anti-Chinese counter-intelligence, Tod Hoffman provides an insider's view of a real-life spy hunt. Though his dramatic style can sometimes seem a bit overdone, his tireless research into the case results in a narrative that is as authoritative as it is readable. Hoffman conducted close to 30 interviews with intelligence agents, investigators and law enforcement officials. The result is a fascinating glimpse into the high-stakes world of international espionage—and the closest most of us will ever get to a real-life James Bond movie.
MARK ORDONSELLI
---
STUNT
by Claudia Dey, BA'95, published by Coach House Books
Eugenia Ledoux, nine years old and alarmingly precocious, lives in a down-at-heel neighbourhood in Toronto. "Stunt" is the secret nickname her father has given her, since she is fearless and loves to thrill him with her reckless, improvised acrobatics.
In this novel's quirky world, all the characters have colourful names: Eugenia's ghoulish and exquisitely beautiful sister is named Immaculata. Their narcissistic mother—an exotic dancer turned B-movie actress—is called Mink. And their father's name is Sheb Wooly Ledoux.
Devoted to her eccentric, gifted father, Eugenia's world is turned upside down when he abandons the family, leaving a cryptic note addressed only to her mother and sister. What follows is a darkly comic coming-of-age story, an extended ode to unrequited love, and a journey into the wilds of Toronto and Eugenia's own psyche.
A playwright recognized for her offbeat and vividly imaginative style, Claudia Dey is essentially a word artist who paints with poetry. Stunt positively sings with evocative character details, pithy dialogue and astonishing wordplay. Describing one character, Dey captures his essence as he heads to his front door, "withering into the shape of a question mark as he draws near."
With elements of magic realism, the new wave fabulists and Charlie Kaufman movies, Stunt walks the treacherous tightrope between reality and fantasy with the greatest of ease. And in balancing a story that is playful, poignant, breathtaking and surreal, Dey performs quite a dazzling stunt, thrilling us with her fearless writing.
ALLYSON ROWLEY, BA'77
---
IN THE WORLD BUT NOT OF IT: ONE FAMILY'S MILITANT FAITH AND THE HISTORY OF FUNDAMENTALISM IN AMERICA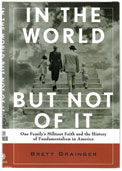 by Brett Grainger, BA'95, published by Walker & Company
In secular circles, Christian fundamentalists are often regarded with considerable unease —as oddballs or intolerant extremists. As a liberal-minded Anglican who works in the media, you might expect Brett Grainger to be the sort of fellow who views Christian fundamentalists with scorn and suspicion. But he isn't. He knows them far too well for that.
Grainger grew up among the Plymouth Brethren, a Christian fundamentalist community in northern Ontario. While he no longer counts himself among their ranks, Grainger's book, In The World But Not Of It, offers a sympathetic, but hardly uncritical, examination of Christian fundamentalism—how it has evolved and how its adherents relate to the world around them. One point that Grainger emphasizes is that Christian fundamentalists are hardly uniform in their views or goals.
"Once believers move past a sacred ring of social values—opposition to gay marriage, abortion, pornography—they have difficulty reaching consensus," he writes.
Grainger guides his readers through this world with a keen eye for detail and a knack for memorable metaphors. Of the Plymouth Brethren, he notes, "They lived off the Bible the way the Great Plains Indians lived off the buffalo. No part was waste."
The book is at its best when Grainger looks back on his youth. He clearly doesn't see the world the same way the Plymouth Brethren do, but he conveys their way of life with wit and insight.
DANIEL MCCABE, BA'89