The Way It Works, Douglas Gibson Books, 2006, $36.99, by Eddie Goldenberg, BA'69, MA'71, BCL'74, LLD'04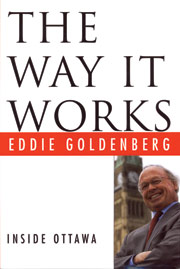 A book on Canadian politics that calls itself The Way It Works invites raised eyebrows about its presumptuous title, but if anybody can offer an insider's account of recent Canadian political history, it's surely Eddie Goldenberg.
Goldenberg spent decades as Jean Chrétien's trusted right-hand man, following him to a succession of Liberal cabinet posts and, finally, the Prime Minister's Office where Goldenberg toiled as Chrétien's senior policy advisor for ten years.
And while Goldenberg clearly admires his former boss deeply and lists many of Chrétien's strengths – his calm under pressure, his uncannily accurate political instincts – he acknowledges that Chrétien sometimes came across as unsympathetic. The former prime minister disliked displaying emotion in public and didn't want to be seen as playing politics in the wake of calamities. As a result, Chrétien didn't have Bill Clinton's knack for radiating compassion-ate concern during times of crisis.
One criticism that still clearly irks Goldenberg is the charge that Chrétien and the PMO functioned, in journalist Jeffrey Simpson's memorable phrase, as a "friendly dictatorship." Goldenberg argues that Chrétien allowed his ministers considerable elbow room and tried to involve both cabinet and the Liberal caucus in setting priorities for the government. Trouble is, says Goldenberg, cabinet ministers and MPs rarely look at the big picture. They invariably focus on their own departmental or regional concerns. "The alternative to 'governing from the centre' is not governing effectively at all," he writes.
The Way It Works offers plenty of memorable anecdotes. We discover, for instance, how former Université de Montréal rector Robert Lacroix helped convince Chrétien of the need for the Canada Research Chairs program by slyly comparing Canada's universities to Chrétien's beloved Montreal Expos baseball team – both were adept at developing all-star talent, but both had problems competing with rivals with deeper pockets.
Anyone interested in Canadian politics will be intrigued by Goldenberg's behind-the-scenes perspective on the last Quebec referendum and the Iraq War, and by his views on such figures as former prime minister Paul Martin and new Liberal leader Stéphane Dion, who may one day hold the country's top job.
The Way It Works offers an engaging and insightful read and is not just for diehard political junkies.
Satanic Purses: Money, Myth and Misinformation in the War on Terror, McGill-Queen's University Press, 2006, $34.95, by R.T. Naylor.
At this point, even President Bush agrees that he and his team have made mis- steps in their war on terror. That never-discovered stockpile of WMDs in Iraq, for one thing. Abu Ghraib, for another.
According to McGill economist Tom Naylor, that's just the tip of the iceberg. In his biting new book, Satanic Purses, Naylor catalogues a depressingly long list of fumbles. Some he attributes to ignorance of the Muslim world, others to underhandedness on the part of the Bush administration and/or other players looking to capitalize on the fallout from 9/11.
Naylor, who teaches a popular course on the underground economy that introduces students to the ins and outs of money laundering and black marketeering, focuses most of his attention in this wide-ranging book (which tackles everything from recent Sudanese history to the trafficking of "conflict diamonds") on the Bush administration's fixation on terrorist financing.
He says the notion that millions of dollars are being funnelled through shadowy channels to support al-Qaida is simply wrong-headed. Naylor argues that there is little credible evidence to support the theory, and besides, determined terrorists don't need a whole lot of money to be successful. The instigators of the 1993 attack on New York's World Trade Centre, which resulted in $500 million in damage, spent about $400 to put their plan into action.
Naylor also claims that the U.S. administration's obsession with stamping out "terror dollars" is having a disastrous impact in the Muslim world, disrupting the work of Islamic charities that fund hospitals, orphanages and medical services, and preventing Muslims in the West from using the hawala system of money transfers (which wires funds to parts of the world where few banks exist) to support family members living in poverty. Naylor contends that the U.S. government's heavy-handed approach to hawala and Muslim charities is far more likely to create bitter new enemies than keep resources out of the hands of Osama bin Laden and his ilk.
How much you care for Satanic Purses might depend on your political outlook – one man's "cynical" is another man's "snide." Still, Naylor's detail-packed work, recently named a Quill & Quire book of the year, offers plenty of food for thought.
Hollywood and Me, Greystone Books, 2006, $22.95, by Bernie Rothman, BCom'54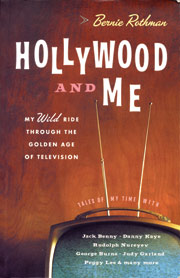 The old adage says there's no business like show business, and Bernie Rothman couldn't agree more. In Hollywood and Me, he takes readers on a "wild ride through the Golden Age of television" in his "un-memoir," so called because the focus is on the characters he met along the way.
From his early theatrical productions at McGill in the company of William Shatner and Leonard Cohen, Rothman went on to become a writer and producer for the most brilliant stars of the time. Comedy, dance, music, drama – from variety shows to feature films, star specials and musical extravaganzas, Bernie Rothman become a highly sought-after Hollywood television producer.
His anecdotes provide a glimpse into what it was like to work with entertainment legends – and it could be a challenge. He recalls finding Rudolf Nureyev soaking in a bath 20 minutes before show time and remembers anxious moments producing a Burt Reynolds special in a maximum security penitentiary. But there was also the thrill of watching Ella Fitzgerald and Dizzy Gillespie dance the jitterbug onstage at an all-star jazz concert he produced and of being a one-man audience for an impromptu performance by Peggy Lee after a few drinks.
Rothman expresses appreciation for the entertainers who brought his work to life. As a writer on the Judy Garland Show, he develops an admiration for the "funniest woman I've ever met." Though he acknowledges the difficulties of working with her, he sees beyond them: "…the angst in her personality comes as no surprise. What sur-prises me is the personal warmth, kindness, charm, and humor she shows everyone – especially the little people."
Thrown into the celebrity mix are tidbits from Rothman's personal life and the struggle to keep his family together as his fortunes rise and fall. "The good times can turn into bad ones; the lucky streak doesn't last forever. It's fun, it's exciting, but it sure ain't easy." Hollywood players need cunning and fierce negotiating skills to succeed in the "savage jungle" of the entertainment industry. It's all part of the game, one Rothman seems to enjoy as much as receiving the Emmys and the Gemini Awards. Hollywood and Me is a light, pleasurable read by someone who learned from the best how to entertain a crowd.
The Story of French, Alfred A. Knopf Canada, 2006, $36, by Jean-Benoît Nadeau, BA'92 and Julie Barlow, BA'91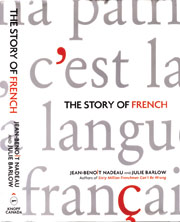 The progressive adoption of French across the globe is rooted in two simple realities: the language has either been forced upon people, or they have taken an interest in learning it. In The Story of French, Jean-Benoît Nadeau and Julie Barlow delve into the language's complex history and its effects on current national and international policies. From the quest for a common European language, to France's global imperialism and the language's subsequent evolution in the colonies, there have been atrocities committed and populations suppressed in the name of French.
By contrast, French is also historically the language of social progress, equality and human rights, and was the leading international language of culture and diplomacy. Knowledge of French was considered a requirement for better-educated classes around the world as late as the 1970s. One of the most carefully sculpted languages, it is governed by the Académie française, an institution set up in the early 17th century and based in the purist ideal of François de Malherbe, "the biggest language snob the world has ever seen."
Nadeau and Barlow chart the history of French from its origins in Celtic, Gallo-Roman, and Indo-European languages, its rise to domination as the world's lingua franca, and its elbowing aside by English in the past half-century. Written like a novel, The Story of French is a captivating informational exposition. Nadeau and Barlow expertly and engagingly depict the influence of French, spoken today by 175 million people in 63 countries, on education and literacy, arts and sciences, political and technological innovation, internationalism, and cultural diplomacy in the creation of a francophone identity that transcends national borders.
The Power of Two, Fenn Publishing Company, 2006, $34.95, by Susan Foster, BA'66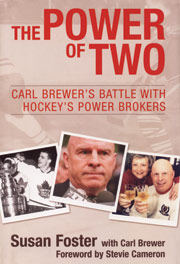 Susan Foster met National Hockey League star Carl Brewer in 1963 when she was an 18-year-old high school student planning to attend McGill. Brewer and the Toronto Maple Leafs made an appearance at a Scarborough, Ontario, factory where her father was employed, and Foster says when she and Brewer were introduced, each felt "some extraordinarily powerful connection" between them.
The instant attraction might have gone no further had their paths not crossed again a few months later when Foster was enrolled at McGill. That second chance meeting was the beginning of a relationship that continued until Brewer's death in 2001 and profoundly changed professional hockey along the way.
In The Power of Two, Foster recounts the story of their life together and of Brewer's turbulent career in the NHL. He was a loner, a man with a quick temper and an agile mind who retired several times from hockey, on one occasion to go back to university. Tormented throughout his life by crippling self-doubt, Brewer was also passionate, loyal and ferociously determined, qualities that fuelled his and Foster's two-decade battle with the NHL to secure players' rights to pension money. Foster was the methodical researcher and steadfast mate (the pair eventually married) to Brewer's obsessed crusader, and together the pair brought down high flying agent Alan Eagleson, who cheated the players he supposedly represented.
Former McGill principal David Johnston appears briefly in the book, as he was appointed in 1995 to evaluate a legal question and was among the first to recognize the validity of the couple's claim.
The book is both fascinating and frustrating, with the willful naiveté of the NHL players prolonging the struggle for justice by Foster and Brewer. As journalist Stevie Cameron says in her foreword to The Power of Two, "It tells a story that will make you proud, and one that will break your heart."
The Story of Modern Skiing, University Press of New England, 2006, $27.95, by John Fry, BA'51.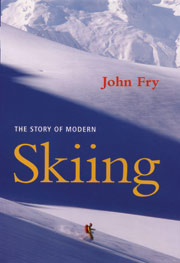 Former SKI magazine editor-in-chief John Fry has written a compelling history of alpine skiing in North America, focusing mainly on the post-World War II explosion in the sport's popularity. His book covers every aspect of skiing's modern development – the resorts, techniques and teaching, equipment, competition – and the people involved in them.
Fry traces the development of recreational skiing in North America (which first took hold in the Laurentians north of Montreal), as it grew from a rope-tow, brown-bag-lunch outdoor activity to a hillside-condo, mingle-with-celebrities lifestyle.
The continent's oldest downhill ski club, the Red Birds Ski Club, was founded by McGill skiers in 1928 and in 1933, Red Bird George Jost competed at the International University Ski Championships in St. Moritz and won – the first non-European to do so. Over the years, generations of McGill students and graduates boarded the Laurentian-bound "snow train" on weekends, heading "up north" to the ski shacks they shared with friends.
Fry's knowledge of everything and everybody connected with skiing is impressive, and the book is packed with interesting tidbits (Bobby and Ethel Kennedy met at Mont Tremblant, the forerunner to the snowboard appeared in the 1920s).
Whether you're a ski buff or snow bunny, this is a great book to curl up with on a winter afternoon.