Slam dunk historical find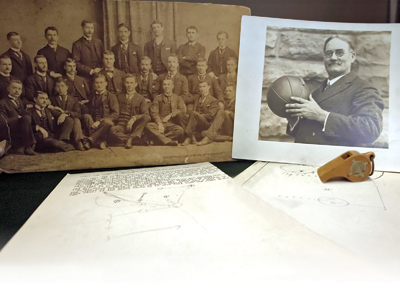 One of McGill's famous graduates has added some new wrinkles to his history. An important cache of James Naismith's personal effects was recently found in the basement of his last surviving relative's home, and it included photographs and documents providing fresh insights into Naismith's invention of basketball in 1891.
According to Hellen Carpenter, Naismith's granddaughter, she always knew the box was there – she just never got around to inspecting it carefully. When she finally did, she discovered a trove of memorabilia, including Naismith's copy of the first rules of basketball, a photograph of the original court (with peach baskets for nets) and a diary that chronicles his early attempts to devise an indoor alternative to football.
Along with mementos such as the passport he used to travel to the 1936 Olympics (when basketball became an official Olympic sport), the collection was auctioned off in Dallas in December, fetching about $715,000. Maple Leaf Sports and Entertainment, owners of the NBA's Toronto Raptors, were among the successful bidders. Maple Leaf purchased 25 Naismith artifacts and will exhibit them at the Raptor's home stadium, the Air Canada Centre.
One detail that the diaries prove conclusively: basketball was inspired by a game Naismith, BA1887, played while growing up in rural Ontario called "Duck-on-a-Rock." Naismith's brainchild was concocted for unruly students in need of diversion during the cold winter months in Massachusetts, where he worked as a physical education teacher at Springfield College.
The original rules were shaped more by circumstance than conscious intention. Naismith planned to use boxes for goals, for example, but settled for peach baskets when that was all the janitor could find. The first games were played nine-a-side because there were 18 men in his class. Even the installation of backboards was for pragmatic reasons. "If their team was losing," says the 74-year-old Carpenter, "people were climbing onto the railing and preventing the ball from going in."
Does Carpenter think her grandfather would have been surprised by how much the game ultimately grew? "He had no idea. Even when they invited him to the Olympics in 1936, he was awed."
The dividends of childhood wonder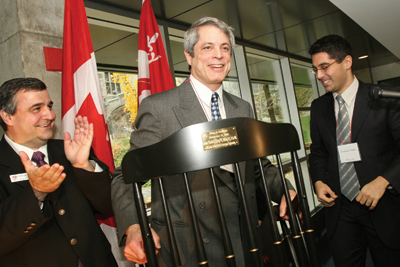 Owen Egan
Curiosity may not be kind to cats, but in the case of Lorne Trottier, the entrepreneur's curiosity about the marvels of the universe will do wonders for McGill's Science and Engineering faculties.
Trottier, BEng'70, MEng'73, DSc'06, co-founder of the Montreal-based high-tech video graphics company Matrox Electronic Systems, and president of Matrox Graphics, recently donated $12 million to allow each of the two faculties to establish an endowed chair and provide fellowship funds to support graduate students.
Physics professor Victoria Kaspi, a world expert on neutron stars and a Canada Research Chair in Observational Astrophysics, will hold the Lorne Trottier Chair in Astrophysics and Cosmology in the Faculty of Science. The Lorne Trottier Chair in Aerospace Engineering will be filled later through an international search.
In an impassioned address to McGill officials, faculty, students and industry peers – fittingly convened in the Lorne M. Trottier Engineering Building – Trottier explained how the impetus for the gift was rooted in a lifelong fascination with science, stars and sky.
"When I was about 11 years old, a new friend introduced me to the world of electronics," Trottier, (pictured at right) recalled. "I was instantly hooked and began building all sorts of interesting electronic devices, ranging from crystal radios to ham radio gear. I went to the library and started reading every introductory book I could find – not only on electronics, but also on science in general.
"At about the same age, I got my first bicycle. One of my favourite destinations was at Dorval airport, an access road just short of the main runway. It was a great thrill for me to watch as jets came thundering in at near treetop level.It's a thrill that I have never outgrown."
His gift comes six years after his $10-million donation towards the construction of the Lorne M. Trottier Building, inaugurated in 2004.
Developing McGill's international influence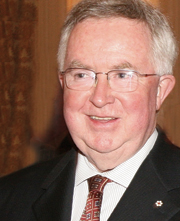 Owen Egan
Does Canada matter on the world stage? Former Prime Minister Joe Clark – who also served as Canada's secretary of state for external affairs from 1984 to 1991 – doesn't think it's even a question worth asking. We're widely respected on the international scene, insists Clark (pictured above), and we ought to act the part. "Some people think it's all apple sauce, but it's true. We do have influence and we underplay it."
He notes that Prime Minister Stephen Harper's government has placed a lot of focus on Canadian-American relations since taking office a year ago – maybe too much. "We're at our best when we recognize both sides of the coin, playing an active role in the world and an active role on this continent."
Clark is determined to do his part and he'll be flying the McGill banner when he does. One of Canada's best-known political figures, Clark recently joined McGill as a professor of practice for public-private sector partnerships in the Centre for Developing-Area Studies (CDAS) and as a visiting scholar at the McGill Institute for the Study of Canada (MISC). "I'll be spared the really hard stuff," Clark says half-jokingly of his new role at McGill. "I don't have to mark any papers."
Maybe not, but he will be busy. Clark will be putting his wealth of experience in foreign affairs and Canadian politics to work in research and teaching programs at CDAS and MISC.
Since leaving the House of Commons, Clark has been acting on his long-standing interest in developing countries. As a director with the Canadian Foundation for the Americas, Clark has in the past helped organize CDAS efforts to attract foreign investment to Haiti. More recently, he led an international delegation that served as official observers for the recent elections in the Democratic Republic of Congo.
It's the sort of work he wants to continue, collaborating with faculty at CDAS. "When you're no longer in office, you're freer to initiate certain types of discussions," he says. "There are some international issues where I can draw people together and get discussions started where [people in government] can't."