The gap year that grew
After completing her first year as an undergraduate at McGill in 1937, Michelle Tisseyre, BA'06, took a break from her studies. Now, some 70 years later, she finally has the degree she began so long ago.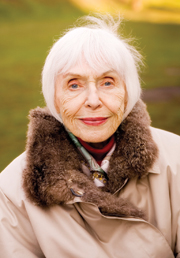 Claudio Calligaris
Tisseyre initially left to marry her first husband. Then life got very busy. During her seven-decade hiatus from McGill, Tisseyre raised five children, became the first woman to anchor Radio-Canada's "grand journal" newscast, hosted Canada's first TV talk show, Rendez-vous avec Michelle, hobnobbed with the likes of Edith Piaf and Charles Aznavour as the host of the enormously popular variety show Music-Hall, and co-founded a publishing company with her second husband that specialized in translating iconic English-Canadian authors such as Morley Callaghan, Margaret Laurence and Robertson Davies for French readers.
When the 88-year-old walked across the stage during McGill's recent fall convocation ceremonies, chances are she was the only freshly minted McGill graduate with the Order of Canada already on her CV. As Tisseyre was handed her degree, the audience treated her to an extended standing ovation. "It was very emotional for me," she says, "especially since it was started by the younger people."
When Tisseyre decided to return to McGill in 2001 to finish her degree (honours in Italian Studies with a minor in Art History), she wasn't quite sure what to expect. "I was afraid that the young people would look at me and say, 'Who is this old dame?'"
Turned out that the decades between classes had done nothing to dampen her spirit or ability to fit in. "I've felt comfortable right from the start," says the grandmother of 28 and great-grandmother of 10. "It's been just wonderful having people come up to me and say, 'I want to be just like you when I get older.'" At exam time, Tisseyre could commiserate with granddaughter Sacha, a commerce student slated to graduate in 2007.
One thing that has changed over the years is the nature of celebrity, says Tisseyre, who chatted with many of the stars of the '50s and '60s on her TV shows. The woman who became a household name herself recalls that "most celebrities at that time were so simple, so unassuming, but it has become a mad, mad world today."
Aspiring apprentice
Millions of viewers are tuning in to The Apprentice to watch Muna Heaven, BCL/LLB'04, do everything she can to avoid having one of television's most stinging catchphrases – "You're fired" – hurled at her by flamboyant tycoon Donald Trump.
Heaven is one of a fresh crop of 18 candidates vying to earn a job with one of Trump's companies during the sixth season of the popular NBC reality show, which premiered January 7. Apprentice contestants are assigned to one of two teams, which compete in a series of tasks related to Trump's businesses. At least one member of the losing squad, picked by a scowling Trump, gets the boot in each episode.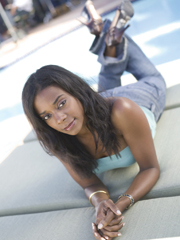 Mitchell Haaseth / NBC
This season, the show has moved from New York to Los Angeles and the stakes have been raised for the contestants. Winning team members get to live in a mansion, while the losers spend the night outside in tents with access only to outdoor showers and portable toilets.
According to an NBC press release, Heaven has degrees in French and biology in addition to her McGill legal training. Born in Jamaica, the New Jersey-based lawyer is an accomplished equestrienne, who has taken part in show jumping competitions in several countries. In the release, Heaven references her studies in international trade law, arguing that she should be the next Apprentice because her "background in international trade and foreign languages run in tandem with the Trump Organization's increasingly global integration."
We'll find out if The Donald agrees.
Old Macdonald has a stamp
Macdonald College was part of a select crowd in 2006, joining an eclectic bunch that also included Queen Elizabeth, King Kong actress Fay Wray, the Canadian Museum of Civilization, explorer Samuel de Champlain and duck decoys.
What this group has in common is that they were among the 21 subjects selected by Canada Post to be featured on special commemorative stamps. For Macdonald, the launching of the stamp last fall marked the official beginning of a year-long celebration of its 100th birthday. The 51-cent stamp showcases Macdonald's familiar green, gold and red coat of arms, as well as one of the college's original buildings, known to generations of Mac students simply as the Main Building (since sold to neighbouring John Abbott College.)
Macdonald takes its name from Sir William Macdonald, a Scottish-born tobacco manufacturer, who believed fervently in the importance of education. Macdonald College was founded on farm properties he purchased at the western tip of Montreal Island in 1904. Construction began the following year, and in 1906 Macdonald turned over the deeds to the Board of Governors of McGill University, along with a $2-million endowment.
The college first opened its doors to students in 1907 and initially housed three schools – Agriculture, Household Science, and Teachers – which reflected Sir William's personal philosophy that farm, home and school were the three pillars of society.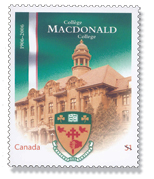 Today, the 650-hectare campus is home to the Faculty of Agricultural and Environmental Sciences and the School of Dietetics and Human Nutrition.
"When Sir William Macdonald founded Macdonald College, it was a landmark in philanthropy," says Dean of Agricultural and Environmental Sciences Chandra Madramootoo, BSc(Agr)'77, MSc'81, PhD'85, adding that the commemorative stamp is a testament to Sir William's leadership and vision in creating what has become an internationally recognized institution.
Anyone interested in learning about events celebrating Mac's centennial birthday bash is invited to visit www.mcgill.ca/macdonald/centenary.