Curling connections
Your Summer edition showed McGill Young Alumni president Catherine Cunningham at the Royal Montreal Curling Club. RMCC, the home of McGill student curling, celebrates its bicentennial year in 2006/2007 and is the oldest athletic club in North America.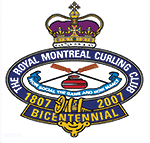 There are many interesting connections between RMCC and McGill. Thomas Blackwood, one of the original founding members of RMCC in 1807 and its first president, was the business partner of James McGill. Two other members of the McGill family are past presidents of the Club.
In 1921, McGill Principal Sir Arthur Currie presented a plaque to the Club honouring those members who served in World War I. The plaque is still prominently displayed in the main entry hall. To mark the occasion, Sir Arthur was made an honorary member of the Club and since then, every principal of McGill University has been invited to be an honorary member of RMCC. Principal Heather Munroe-Blum is currently an honorary member.
As the Club enters its third century in downtown Montreal, we hope McGill students, staff and graduates will continue to play as large a part in its future as they have in its past. For more information, see www.royalmontrealcurling.ca, or contact the Club at 514-935-3411, rylmtlcc@videotron.ca.
Andy Shatilla, BA'68
RMCC President
via email

Hurray for Homecoming
Kudos to the Homecoming 2006 Committee for a memorable reunion on October 19–22. My wife Sandy and I came back for this walk through our own history as both of us had ties to McGill. I graduated in Chemistry at McGill in 1971 and Sandy worked in administration in the mid-'70s. We married on October 21, 1977, and celebrated our 29th anniversary at this year's Homecoming.
I was lucky enough to meet some of my classmates and share some memories with Dr. David Harpp, who was my Organic Chemistry 202 professor in the late '60s. In fact he was inspirational in convincing me to teach high school science and mathematics, which I did for 33 years. He was cool then, as he is now.
Sandy and I were also pleased to meet Principal Heather Munroe-Blum at the Dean's Breakfast and were very impressed with her warmth, vibrant style, and sense of humour.
A good time was had by all. Thanks for the memories, McGill.
Art Jaszczyk, BSc'71, DipEd'72
Thornhill, Ont.

McGill memories
Our family lives in Montreal and my daughter began studies at McGill this fall. As I travelled recently to yet another club to fetch her at 2 a.m., I could not help but remember all that McGill meant to me some three decades ago.
1971. It was the beginning of the rest of my life. It meant freedom to be who I wanted without the constraints of everyone's preconceived notions of who I was. It meant meeting people different from me from all over the world. It meant going to plays, attending poetry readings (remember all those darkly lit coffee houses?) and being really, really sophisticated. A liberated woman of the world. It meant studying with the best professors, being exposed to the most revolutionary and the most left-wing politics and political economy, and being part of a larger group that took a stand on what was going on in the world. It also meant being in our own world, separate from everything else.
My first day was fraught with finding the right classrooms, finding a friend – any friend – and the excitement of how so many people could be interested in Economic History! We could not wait to learn more and were enraptured with our profs and with having senior students in our classes. How intelligent and well-read everyone was! Would we ever be like that?
There was no Frosh Week then, no First-Year Office, no orientation, no electronic registration – we stood in line for hours in front of the gym to register, pleaded with a live person for entry into closed courses and tucked the then-controversial Birth Control Handbook away in our school bags. We were so happy to be a part of the tradition that was McGill University.
How lucky they are today, these best and brightest, to be given all the support and opportunities in a university many times the size it was then. It is my hope that my daughter will find the same excitement amid these hallowed halls and ivy-covered buildings.
Rachel Cohen, BA'75, BCL'78, LLB'79

Crossed wires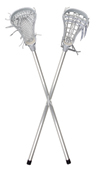 istockphoto.com
My wife, Pascale Lemaire, BSc'87, was happy that her news made it into the alumnotes section of the Summer issue, but was surprised to read that she "spends her free time volunteering as head coach for the McGill men's varsity lacrosse squad." Her note was over-edited, as she had originally written that her husband is coaching lacrosse.
Tim Murdoch
via email
Ed. note: Pascale Lemaire and Tim Murdoch were good sports about the mix-up. In fact, Coach Murdoch is a pretty good sport all around – he played varsity lacrosse as an undergraduate at Princeton and rowed on the freshman heavyweight crew. While an MBA student at Harvard, he was a player-coach on the lacrosse club, and once he graduated, he led two European bicycle tours. He's in his fourth year as head coach of the Redmen lacrosse team.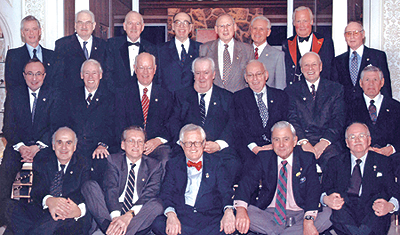 Remembering a close call
On Saturday, October 21, the Law Class of '56 (pictured above) held a reunion and we recalled an incident which Joe Singerman, my neighbour and a journalist, knew about in advance from me. After the event he wrote the enclosed.
Alex Paterson, BCL'56, LLD'94
Westmount, Quebec
Ed. note: Thanks to former McGill Board of Governors' chair Alex Paterson (in red bow tie) and Mr. Singerman, whose story we have excerpted below:
Fifty years ago an entire class of McGill law students was cited for "unruly behaviour." Those "troublesome" students went on to become highly successful ambassadors, lawyers, judges, civil servants and cabinet ministers. Recently the Law Class of '56 remembered the exam-writing incident which nearly cost them their degrees.
Alex Paterson, who at the time was president of the Law Undergraduate Society, wrote about it in his recent book, My Life at the Bar and Beyond, and recalled details as if it happened last week. "The invigilator that year was a nervous history professor. He entered the classroom on the first day of exams, and triumphantly shouted, 'I'm the chief invigilator!' Everyone booed. He angrily responded, 'If there is any more of that, I'll tear up your exam papers.'"
Another prolonged boo.
"The enraged professor went over to Jamie Dunton, a quiet and very intelligent student, and tore his exam to shreds." During the pandemonium, "one student got up and left the exam hall to go for a smoke, another went to the washroom," recalled Paterson.
A fortunate appearance by Professor F.R. Scott got the students settled down and the incident appeared to be a minor disturbance. However, the invigilator lodged a complaint with the Dean, who in turn launched an inquiry, and the issue went all the way to the University Senate, causing anguish amongst students hoping to receive their law degrees.
"When the investigation was over," Paterson said, "the student who left for a cigarette was accused of cheating and another of going to the bathroom without the invigilator's permission." Paterson and class president Pierre Legrand mustered their energies and applied three years of legal training to deal with McGill administrators. "We had to negotiate with the Dean over the threatened disciplinary actions which took many hours, and also made it quite difficult for the two of us to complete our exams."
The Dean, W.C. J. Meredith, Q.C., decided to fine all students $25, which they would have to pay before receiving their degrees. The class balked at first, but a compromise was reached – each student had to pay $10.
The former McGill law students were coy during their recent reunion, not wishing to reveal the identity of the young man who caused the kerfuffle 50 years ago because he needed a cigarette.
The "unknown" student, who was cleared of cheating, did have to pay a $25 fine before receiving his degree.
Said Paterson, "We all laughed during the reunion, noting that our 'brilliant' careers could have gone up in smoke."

Remarkable Maude
In the most recent issue of the News, your usual eagle eyes seem to have missed an error in the history of distinguished McGill alumna Maude Abbott. You write in the Editor's Notebook that she graduated in 1890 and was named assistant professor in 1825. I am always interested in reading the information you collect and share about our extraordinary alumni, but in this case, not even a McGill graduate could have accomplished such a feat.
Thomas B. Thompson BSc(PE)'58, MEd'78
Senior Philanthropic Advisor, McGill
Ed. note: A slip of the digit means we were off by 100 years. Abbott's appointment came in 1925. This brilliant woman practised as a physician treating women and children, conducted research, served as curator of the McGill Medical Museum and contributed a chapter on congenital heart disease to a book by William Osler at his invitation. Her work classifying specimens at the Museum helped her become a world authority on the subject. Abbott was memorialized in a mural by Mexican painter Diego Rivera of the 50 most important heart specialists in world history for the Cardiology Institute of Mexico. She was the only woman and the only Canadian to be included.