Agricultural & Environmental Sciences / Macdonald Campus
Melvin Barclay, BSc(Agr)'64, was presented with the Queen's Golden Jubilee Medal, recognizing his leadership in 4-H. Melvin has also been recognized for several other accomplishments, including the Distinguished Services Award from the New Brunswick Institute of Agrologists and the James Robb Award, which is the highest honour given by the New Brunswick Federation of Agriculture. Melvin is a Fellow of the Agricultural Institute of Canada.
Cynthia Surette, BSc(Agr)'00, and Andrew Winterborn, BSc(Agr)'00, are proud to announce the birth of their first child, Benjamin, in February. They were married in Georgetown, Ont., in 2001. In 2005 they moved to Rochester, NY, where Andrew is a resident in the Department of Comparative Medicine at the University of Rochester. Contact from Mac friends is welcome at Cynthia@Surette.com.
Architecture
Robin Wright, BSc(Arch)'70, BArch'71, is department head of Project Management Services for the McGill University Health Centre. Robin and her team oversee all phases of client service concerning construction projects, renovations and redesigns for the Royal Victoria Hospital, the Montreal General Hospital, the Montreal Neurological Institute, the Montreal Children's Hospital and the Montreal Chest Hospital.
Jay Hiscox, BSc(Arch)'91, BArch'93, is the new director of the Royal Architectural Institute of Canada.
---
Pascale Tremblay
, BSc(Agr)'85, qui a animé le magazine
Cultivé et bien élevé
, reviendra à l'antenne de Télé-Québec cet automne à l'animation d'un nouveau magazine,
La vie en vert
. Pascale a commencé sa carrière à
La Semaine verte
avant d'animer
Jardins d'aujourd'hui
durant trois ans à Radio-Canada. Pascale a aussi présenté une série documentaire sur les jardins du Québec à TV5 et au Canal Évasion. Le 28 juin 2006, le premier ministre du Québec, Jean Charest, ainsi que le ministre de l'Agriculture, des Pêcheries et de l'Alimentation, Yvon Vallières, annonçaient la nomination de Pascale au poste de commissaire de la Commission sur l'avenir de l'agriculture et de l'agroalimentaire québécois.
---
Arts
Philippa Hunter, BA'50, exhibited her paintings last November and December at the Roberts Gallery in Toronto, the oldest fine arts gallery in Canada.
Leonard Rosmarin, BA'59, MA'60, retired from Brock University in 2003 after 34 years as professor of French Literature. Since then, Leonard has completed two projects: Liliane Atlan ou la quête de la forme divine (Les Éditions du Gref, 2004), a book about Franco-Jewish writer Liliane Atlan, and an English adaptation of Atlan's play Les Mers rouges, which was produced at Toronto's Fringe Festival in 2005.
John B. Dossetor, PhD'61, has published Beyond the Hippocratic OathM (University of Alberta Press, 2006). The book, subtitled A Memoir on the Rise of Modern Medical Ethics, outlines John's own ethical decisions during his career as a nephrologist.
Roger H. Barnsley, MA'68, PhD'71, received an honorary PhD in Education from Saint John's University in Bangkok, Thailand, in January. Roger has held several university positions, including Associate Professor and Chair in the Psychology Department at the University of Lethbridge, Dean of Education and professor at Saint Mary's University in Halifax, and professor and Vice President of Academics at Saint Thomas University in New Brunswick. Roger is President and Vice-Chancellor of Thompson Rivers University in Kamloops, B.C., formerly University College of the Cariboo.
John Klassen, MA'68, was recognized for his 30 years of scholarship and dedication to the Department of History at Trinity Western University with a fellowship in his name. The John Klassen Fellowship will be awarded yearly to a fourth-year history student who demonstrates high academic achievement.
Barbara Schulman, BA'68, co-authored a book entitled Dancing in the Elevator, a compilation of anecdotes about life with Alzheimer's disease. The book is available at www.alzheimerottawa.org, with all proceeds going to the Alzheimer Society of Ottawa.
Sherrill E. Grace, MA'70, PhD'74, has published her 16th book, Theatre and Autobiography (Talonbooks, 2006), with co-editor Jerry Wasserman.
Barbara Moses, BA'71, has written a book entitled Dish: Midlife Women Tell the Truth about Work, Relationships, and the Rest of Life (McClelland & Stewart, 2006).
Karl Nerenberg, BA'71, DipEd'72, has been Director of Corporate Communica-tions and Public Outreach at the Canadian Institute for Health Information since 2005. This followed five years as Director of Communications for the Canadian-based Forum of Federations, and more than 20 years at Radio-Canada and CBC as a producer, director and executive producer. Karl's wife, Martha Plaine, BA'70, a writer and consultant, and Karl's son, Jacob Nerenberg, BEng'03, are both McGill graduates as well.
Frank Dans, BA'72, became the artistic administrator of the Cleveland Orchestra after 12 years with the Atlanta Symphony in the same post.
Nichole Ricalens Pourchot, MA'73, a écrit Les facéties du français (Aramand Colin, 2005).
Reed Way Dasenbrock, BA'74, was appointed Provost and Executive Vice President for Academic Affairs at the University of New Mexico. Reed had served as Dean of the College of Arts and Sciences since 2001.
Sheldon Goldfarb, BA'75, had his book, Remember, Remember, shortlisted for the Arthur Ellis Award for best Canadian juvenile mystery novel of 2005.
Christopher W. Kimball, BA'77, is the new Provost and Vice President of Academic Affairs at California Lutheran University, and will relocate with his family to Thousand Oaks. Christopher was previously Provost and Dean of Augsburg College in Minneapolis, Minn.
Marlene Eisner, BA'80, is editor-in-chief of the Suburban, Quebec's largest English weekly newspaper. Marlene has been with the Suburban for 12 years in various editorial positions, and was previously with the Gazette for six years.
---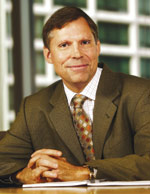 Chad Gaffield
, BA'73, MA'74, has been named President of the Social Sciences and Humanities Research Council of Canada (SSHRC). Known as one of the country's foremost socio-cultural historians, Chad has spent most of his academic career at the University of Ottawa, where he earned awards for both excellence in research and excellence in teaching. Chad leads the Canadian Century Research Infrastructure initiative, which is creating cross-indexed databases from 100 years' worth of national census information to shed light on the making of modern Canada. SSHRC is an arm's-length federal agency that promotes and supports university-based research and training in the social sciences and humanities.
---
Elise Moser, BA'84, CertHRMgmt'00, co-edited an anthology of short fiction with Claude Lalumière called Lust for Life: Tales of Sex and Love (Véhicule Press). Elise's 2004 CBC/QWF Short Story Competition- winning story, "Malke's Baby," and her 2005 runner-up story, "Allons Enfants de la Patrie," were both included in Claude's edited anthology Short Stuff: New English Stories from Quebec.
Frank P. Harvey, BA'85, MA'88, PhD'93, is a Canada-U.S. Fulbright Scholar and the 2007 J. William Fulbright Distinguished Research Chair in Canadian Studies at the State University of New York (Plattsburgh). Frank is a professor of Political Science and International Relations and former Director of the Centre for Foreign Policy Studies at Dalhousie University.
Michelle Tack, BA'85, was a featured speaker at the 15th annual RSA Conference, the most prestigious information security event of the year, in February in San Jose, California. Michelle is a senior member of the executive management team at Apani Networks, a leading enterprise network security software provider.
Chris Gutkind, BA'86, is a librarian in London, England, and had his first collection of poetry, Inside to Outside, published by Shearsman Books in the United Kingdom. Chris's mom, Alice Gutkind, MLS'74, MA'77, and sister, Katherine Gutkind, BA'77, were both McGill grads, and his father, the late Peter C. W. Gutkind, was a McGill professor.
Jeff Morgenstein, BA'86, was awarded the Milken Family Foundation National Educator Award for 2005. Jeff has been a high school Spanish and Theory of Knowledge teacher for the past seven years at Land O'Lakes High School in Florida, and is pursuing his doctorate in Interdisciplinary Studies in Education from the University of South Florida.
Jamie Brown, BA'90, was appointed Head of Corporate Finance for Canaccord Adams Inc., a leading independent financial services firm, in Boston. Francesca Iacurto, BA'90, is Vice-President of Government Relations at Genworth Financial Canada, based in Ottawa.
Robert Edison Sandiford, BA'90, had his fifth book, The Tree of Youth and Other Stories, published by DC Books of Montreal. Set in cosmopolitan Canada and beautiful Barbados, the collection is available in Canada, the United States and Barbados.
Tanya Churchmuch, BA'92, was appointed Senior Media Relations Advisor at Concordia University. Tanya comes to Concordia with extensive reporting and anchoring experience at Global Television Quebec since 1998. Corinne Pohlmann, BA'92, MA'94, was appointed Director of National Affairs of the Canadian Federation of Independent Business (CFIB). Corinne is based in Ottawa and will be responsible for managing CFIB's strategic direction on national issues.
Keith Donahue, BA'96, and Meredith Nelson, BA'96, moved from Dublin, Ireland, to Raleigh, North Carolina, via Ottawa last fall. Keith is a Director at Harris Corporation and Meredith stays home to take care of Patrick Gordon, born in May, a little brother to three-year-old William.
Louise Slinger, BA'96, completed an MBA in international business in a tri-continental program in Mumbai, Philadelphia, Tokyo and China, and just returned to New York in August from China.
Tyler Levine, BA'97, co-wrote the horror movie Set to Kill, which debuted in March 2006. Tyler was a television producer for five years before making the leap to feature films in 2004.
Elizabeth A. Haydn-Jones, BA'98, lives in London, England, and works in the press office of the campaigns department of Amnesty International UK. In September 2005, Elizabeth completed her MA in Human Rights from the University College London and was given distinction for her thesis, which exposed and examined the failures of private health care provision in the United States.
Sam Roberts, BA'98, released his third album, Chemical City, last April. The first single off that album, "The Gate," was among the nominees for a 2006 MuchMusic Video Award.
Elena Gibbons, BA'02, is a graduate student at the University of Connecticut, and was married to Brian Serapiglia in Connecticut in July 2006.
Jason Maghanoy, BA'03, graduated in last spring from the National Theatre School of Canada, in Montreal. Jason's graduating play, Say Yes, was presented at the Monument National in April 2006.
André Martin, BA'04, is training in classical theatre at the University of Delaware's Professional Theatre Training Program.
April Norris, BA'06, is the fifth generation of women in her family to graduate from McGill, including her mother, Linda Marsh Norris, BEd'77, as well as her great-grandmother and two distant aunts, who graduated before 1900.
Dentistry
Robert B. J. Dorion, DDS'72, was awarded the Odontology Section's Reidar Sognnaes Award of Excellence in Forensic Odontology by the American Academy of Forensic Sciences at its 58th annual Scientific Meeting, held in Seattle, Washington, in February. Robert is the Director of Forensic Dentistry at the Ministry of Public Security for Quebec.
---
Harry Rosen
, DDS'53, a respected Montreal dentist, longtime McGill dentistry professor and accomplished sculptor, was the subject of a television documentary,
Dr. Harry Rosen – Renaissance Man
, that aired on the PBS Mountain Lake series
Art Express
on November 1. The documentary had its official premiere at McGill, with a screening in Moyse Hall on October 19. Harry, an expert on prosthodontics and restorative dentistry, has taught at McGill for over 50 years. In collaboration with the Faculty of Dentistry, Harry has created the Dr. Harry Rosen Endowed Clinical Teaching Fund, to assist young clinical instructors in developing their teaching skills – by offering them access to training opportunities and improved teaching tools, for instance.
---
Education
Dawn Brown, MEd'79, has published her second book, Been There, Done That…Now What? (Creative Bound, 2006). Dawn also has another book out called That Perception Thing! (Creative Bound, 2002), which she wrote after 22 years at Carleton University as Director of Student Life Services and head of Career Services. For the last three years Dawn has been a professional speaker and writer, as well as a private counsellor through her own company, Perception Shift.
Robin N. Michel, BEd'80, is a professor and a Tier 1 Canada Research Chair in Cellular and Molecular Neuromuscular Physiology in the Department of Exercise Science at Concordia University. Robin was the first scientist to demonstrate the key role of calcineurin in the sequence of events that prompts muscle cells to grow and become more energy-efficient.
Christine Helmer, BEd'87, has moved to Cambridge, Mass., and is teaching as a Senior Scholar in Theology at the Harvard Divinity School.
Martin Raymond, BEd'90, MA'96, won the Father George Kehoe Memorial Award for coach of the year for the 2005-2006 season. Martin is head coach of the McGill men's hockey team.
Athina Galanogeorgos, BEd'92, MEd'96, was appointed Assistant Director of Pedagogical Services for the Montreal School Board. Athina has been the Principal of Rosemount High School in Montreal for the past three years.
Kim St-Pierre, BEd'05, and assistant coach Peter Smith, BEd'79, MA'86, took home gold medals in women's hockey at the 2006 Turin Winter Olympics. Tyson Heung, BEd'05, also participated in the Olympics, competing with the German short track speed skating team. Other McGill grads who helped in the organization of the Winter Olympics include Derek Covington, BA'92, a sports services officer for the Canadian Olympic Committee, Richard Pound, BCom'62, BCL'67, a member of the International Olympic Committee and Chairman of the World Anti-Doping Agency, and Howard Stupp, BEng'78, BCL'83, LLB'83, who is also a member of the International Olympic Committee.
Engineering
Ken Kalman, BEng'66, PhD'70, had his play, Defenceless, produced in June 2006 by Stone Circle Theatre in Ajax, Ontario.
Allan Kohl, BEng'68, DipMgmt'72, MBA'78, was appointed president and CEO of KOM International, in Montreal. KOM International is a consulting firm that provides supply chain and logistics experience to clients in many industry sectors.
Sandro Scola, BEng'84, MEng'89, was promoted to Senior Manager of Bridges and Structures for Canadian National/Illinois Central Railroad.
Ammar M. Al Assam, BEng'95, MBA'97, is Director of Business Development for Dewan Architects & Engineers, a leading architecture and engineering consultancy firm, and lives in Dubai, United Arab Emirates.
Health Sciences
John D. Hsu, BSc'57, MDCM'61, received a commendation from the Los Angeles County Board Supervisors for 32 years of excellent service. John recently became Emeritus Clinical Professor in the Department of Orthopaedics at the Keck School of Medicine at the University of Southern California. In the past year John has been a visiting professor at the University of Heidelberg, Germany, the Shriners Hospital in Greenville, S.C., the Robert Jones and Agnes Hunt Orthopaedic Centre in Oswestry, England, and the Technical Orthopaedic Program in Munich, Germany. John is presently revising the American Academy of Orthopaedic Surgeons' reference textbook, Atlas of Orthotics & Assistive Devices, as Senior Editor.
Annette Rudy, BSc(OT)'70, is Executive Director of the Griffith McConnell Residence, a seniors' residence and long-term care centre in Montreal. Annette's daughter, Laura Rudy, BCom'05, is a recent graduate of McGill's Desautels Faculty of Management.
---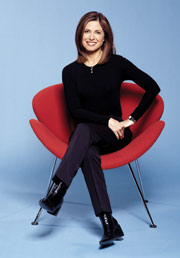 Marla Shapiro
, MDCM'79, is the medical consultant for
CTV National News
and
Canada AM
, as well as the host of the show
Balance: Television for Living Well
and a columnist for the
Globe and Mail
. In 2005, she received the North American Menopause Society Media Award, given annually to a media professional whose work has expanded the knowledge and understanding of menopause. Marla also won the Society of Obstetricians and Gynaecologists of Canada/Canadian Foundation for Women's Health Award for Excellence in Women's Health Journalism in 2006 for her television documentary Run Your Own Race, which detailed her battle with breast cancer. She has just published
Life in the Balance: My Journey with Breast Cancer
, which expands on her difficult journey from doctor to patient.
---
D. Douglas Miller, MDCM'78, was appointed Dean of the School of Medicine at the Medical College of Georgia, in Augusta, Georgia, in July 2006. Douglas is a cardiologist who also serves as chair of internal medicine at the Saint Louis University School of Medicine.
Rana Zeine, PhD'93, joined the faculty at Northwestern University's Feinberg School of Medicine in Chicago, Illinois, as Research Assistant Professor, after having completed her residency training in Anatomic Pathology and Neuropathology at Albert Einstein College of Medicine in 2004.
Keith Fleming, MDCM'01, married Anne Chalmers of Bridgton, Maine, in September 2005. Several medicine graduates were in attendance, including Simon Bergman, MDCM'01, MSc'05, Jeff Golan, MDCM'01, Eyal Golan, MDCM'03, Stephen Sohmer, BSc'96, MDCM'01, Robert Maranda, BSc'97, MDCM'01, Stephanie Minorgan, BSc'97, MDCM'01, and Alexandra DePokamandy, MDCM'01.
Nicolas Gilbert, DipEpid&Bio'03, was appointed head of Health Canada's Indoor Air Quality Section. Nicolas will supervise the revision of Health Canada's indoor air quality guidelines and eventually develop a new set of guidelines.
Law
Les Vandor, BCom'76, BCL'80, LLB'80, has joined Lang Michener LLP as Counsel. Les will continue co-hosting his regular legal call-in shows on CBC Radio and CTV.
Herbert Brownstein, BA'79, BCL'82, LLB'83, and Mitchell Brownstein, BCom'83, BCL'87, LLB'87, have been partners in the law firm Brownstein, Brownstein and Associates since 1990, specializing in business and immigration in Montreal. In November 2005, Herbert was elected a city councillor for Dollard des Ormeaux and Mitchell was re-elected a councillor for the city of Côte Saint Luc.
Brad Wylynko, LLB'89, made partner with the Australian national law firm Clayton Utz, and has been living with his wife in Perth, Australia, since 1999. They have three children, Ella, 5, Nicholas, 2, and their youngest, born in May 2006. Brad's practice focuses on environmental law in the Asia Pacific region.
Tasha Kheiriddin, BCL'93, LLB'93, is currently a visiting lecturer at the McGill Institute for the Study of Canada, teaching a course on the conservative movement in Canada. She is also writing a book about the relationship of economic systems to human behaviour.Tasha is the former Ontario director of the Canadian Taxpayers Federation.
Martin-Pierre Boulianne, BCL'95, LLB'95, et son épouse, Judith Harvie, sont les heureux parents de Simone, née en avril 2006.
Jonathan Levinson, BCL'95, LLB'95, was appointed Assistant General Counsel at Concordia University. Jonathan will provide advice on legal and policy matters, as well as draft, negotiate and review university policies and agreements with third parties.
Management
Ruben Rosen, BCom'57, was appointed Chair of the North Simcoe Muskoka Local Health Integration Network (LHIN) by the Ontario Minister of Health. This is one of 14 LHINs created by the Minister to manage, plan and fund health care services across the province.
Martin L.B. Walter, BCom'58, is Vice-Chairman of the Massachusetts Alliance for International Business, a non-profit organization that helps small and medium-sized Massachusetts companies compete in the global economy. Martin is also director of Walter Property, a development company in Guernsey, in the Channel Islands. Martin lives with his wife in Needham, Mass.
Steve Bower, BCom'73, was appointed Acting CFO of Wi-LAN Inc., a Calgary-based provider of broadband wireless communications solutions.
Marion Kirsh, BCom'76, DPA'78, moved to the Ontario Securities Commission in Toronto as Associate Chief Accountant after 21 years at RBC Financial Group. Marion has also been volunteering at the Canadian Cancer Society's Ontario Division for the last six years.
Glenn Charlesworth, BCom'79, was named President and CEO of Lakeland College, in Vermilion, Alberta, by its board of governors. Glenn was chosen primarily for his extensive history with the college as a professor, program head, chairman and, most recently, Executive Vice-President.
Jean-Pierre De Montigny, MBA'80, is Vice Chairman of the Board of Blackmont Capital, and was recently appointed Chairman of D-Box Technologies Inc., a company that designs and manufactures high-technology motion simulators for the entertainment industry.
Catherine Rowe, BCom'86, was appointed Executive Director of External Affairs at the Montreal Neurological Institute and Hospital. Catherine was formerly Director of Major Gifts at Centraide of greater Montreal for 12 years.
John Snisarenko, BSc'86, MBA'91, is Vice President and General Manager of Ophthalmology at Novadaq Technologies Inc., a developer of medical imaging systems for the operating room.
Carrie Ann Mazoff, BSc'97, BCom'98, and husband Peter Mazoff, BCom'96, welcomed their daughter, Paige, into the world in October 2005. Carrie and Peter have moved back to Montreal after a six-year stint in Boston.
Philip O'Neill, BA'87, MBA'03, was elected President of the Canadian Chamber of Commerce in Japan in June 2005 for a two-year term. Philip works at the McGill MBA Japan program of the Desautels Faculty of Management in Tokyo.
Lisa Ouellet, BCom'87, announces that the Management Class of 1987 is now acknowledged on a plaque that has been permanently displayed on the wall of the Bronfman Building near the Dean's office, thanks to the tremendous support of Kristine Jones and the entire Desautels Faculty of Management.
Corey Anne Bloom, BCom'90, DPA'93, was elected Chairman of the Board of Regents of the Association of Certified Fraud Examiners (ACFE) in February. The ACFE is a 36,000-member global association dedicated to providing anti-fraud education and training.
Yalmaz Siddiqui, BCom'92, is Environ-mental Strategy Advisor for Office Depot, a leading provider of office products and services. Yalmaz is responsible for increasing understanding of environmental issues and opportunities among suppliers, customers and associates in order to help improve the environmental performance of the company.
Antoinette Paolini, BCom'96, DPA'98, works as a finance manager for Cott Beverages USA. She was married to David Lepre in May 2005 and resides in Tampa, Florida. Antoinette would love to hear from old friends at alepre2721@yahoo.com.
Arthur Kah-Git Wong, BCom'97, married Dr. Haejin In in September 2005 in Seoul, South Korea, which was followed by a traditional Chinese wedding banquet in October in Vancouver. Among the guests were McGill alumni Adrian Yu, BEng'98, Megan Mitchell, BA'97, Vivian Chan, BSc'98, Mirelle Nguyen-Tu, BSc'96, Ferhat Kassamali, BSc'97, MSc'01, Byron Jung, BEng'96, Josephine Jung, MSc'00, and Deepak Jain, BEng'96. Arthur is a business systems analyst for Akamai Technologies in Cambridge, Mass.
Deepak Dave, BCom'98, returned to London, England, in January to work for UBS Investment Bank Emerging Markets after working in Johannesburg as Director of Investment Banking Credit Risk for Barclays Bank International.
Sima Ghanem, BCom'98, lives in her hometown of Amman, Jordan, with her husband, Prince Abbas Bin Ali, and her two daughters, Karma, 4, and Rania, 2. After graduation Sima worked for UNICEF and an advertising firm, and also taught at an elementary school. Sima presently works at The Linen Store, which she opened last summer. Sima's sister, Lana Ghanem, BCom'06, completed her business degree at McGill this summer with a concentration in marketing and finance.
Catherine Liepins, MBA'04, was hired by the National Bank of Canada and works in Montreal. Last December Catherine won $10,000 in a business plan contest, which she credits to her McGill MBA and the Department of Entrepreneurial Studies for teaching her how to write a convincing business plan.
Dianne Lynch, PhD'06, was associate professor in the Department of Journalism at Ithaca College, in New York state, before becoming Dean of Ithaca's Roy H. Park School of Communications in 2004. Dianne was also previously an instructor in the School of Journalism and Mass Communication at the University of Wisconsin-Madison and an associate professor in the same department at Saint Michael's College in Vermont.
Music
Kerry Stratton, BMus'74, is Conductor and Music Director of the Toronto Philharmonia, and since 1992, he has also been Music Director for the Huntsville Festival of the Arts. Stratton's engagements have included the Vienna Symphony Chamber Orchestra, the Prague Chamber Philharmonic and the Calgary Philharmonic Orchestra. In January 2001, he became the first Canadian to conduct the St. Petersburg Camerata in the Hermitage Theatre at the Winter Palace.
Michael Capon, MMus'88, was appointed Director of Music at Timothy Eaton Memorial United Church in Toronto last March. Previously, Michael was organist and choirmaster at Christ Church Anglican Cathedral in Fredericton, New Brunswick.
Beatriz Ilari, PhD'02, is an associate professor of music education at the Federal University of Paraná, in Curitiba, Brazil.
Science
Dorothy Warburton, BSc'57, PhD'61, received the Allen Award from the American Society of Human Genetics in October. The award is presented annually to recognize outstanding contributions and continued productivity in the field of human genetics through research and/or teaching.
Florence Shanfield Gordon, BSc'63, MSc'64, PhD'68, and Sheldon Gordon, MSc'65, PhD'69, are contributors to the book A Fresh Start for Collegiate Mathematics: Rethinking the Courses Below Calculus, which was published by the Mathematical Association of America and contains 49 articles written by mathematics educators.
John Harnad, BSc'67, is a professor in the Department of Mathematics and Statistics at Concordia University and recently won the CAP-CRM prize in theoretical and mathematical physics from the Canadian Association of Physicists in recognition of his "deep and lasting contributions to the theory of integrable systems with connections to gauge theory, inverse scattering and random matrices."
Don Smillie, BSc'67, was awarded an Alberta Centennial Medal in December 2005 by the government of the province of Alberta. The award is a one-time commemorative medal that celebrates the centennial year of the province joining confederation in 1905. Medals are conferred upon individuals who have made significant contributions to the community and society in Alberta. Don has spent the past 30 years as a member and chair of several program and industry advisory committees at the Southern Alberta Institute of Technology.
Esther H. Steinhauer, BSc'69, joined the 100-member intellectual property practice at the law firm Hunton & Williams, and will work as counsel from their New York branch.
Jean-Marie Dufour, BSc'71, received a 2006 Killam Prize, Canada's most distinguished annual award for outstanding career achievements in engineering, natural sciences, humanities, social sciences and health sciences, worth $100,000. Jean-Marie is a professor of Economics at the Université de Montréal and specializes in econometrics.
David Friendly, BSc'71, has retired from Gulf Canada and Petro-Canada after 31 years of service, and is now President of David Friendly Consulting Ltd. With his new company David hopes to help the next generation of loss management and response professionals apply life-saving principles in the areas of economic and social protection.
Nick Di Pietro, BSc'72, MSc'75, was appointed Piping Engineering Lead in the facilities group for the Hibernia Topside Upgrading Project, an offshore petroleum extraction project, and serves as Exxon Mobil representative for technical matters. Nick lives with his wife, Olga (Biscotti) Di Pietro, BA'74, and their three sons are all busy with their own studies.
G. Paul Donnini, BSc'72, PhD'77, was appointed President of ITT Flyght Canada after serving two years as Vice President. Paul is pleased to report that his sons, Michael Robert Donnini, BEng'05, and David T. Donnini, BSc(PT)'04, have followed proudly in his footsteps by graduating from McGill.
Gordon Jardin, BSc'74, is CEO of the management team at Franklin Credit Management Corporation in New York City. Gordon's company acquires, manages and sells sub-prime residential mortgage assets.
Yuk-Shan Wong, MSc'76, PhD'79, was appointed Vice President of Administration and Business, as well as Adjunct Professor of Biology at the Hong Kong University of Science and Technology.
Michel C. Barbe, PhD'79, is Senior Manager of Research and Development and High Technology for the tax services group at Samson Bélair/Deloitte & Touche, and works from his Montreal office. Michel will coordinate all claims for R&D tax credits in the pulp and paper sector.
Jatinder P. Ahluwalia, BSc'84, has joined the faculty at Southern Illinois University School of Medicine as an associate professor of internal medicine, specializing in gastroenterology. Before this position, Jatinder was on faculty at the University of Iowa Hospitals and Clinics in Iowa City, and also volunteered as a staff physician at the Free Medical Clinic of Iowa City.
Philippe Giaro, BSc'84, was appointed to the Board of Directors at SearchGold Resources Inc., and will also take over as President and CEO of the company.
Tammy Clifford, BSc'92, MScA'93, completed her PhD in Epidemiology at the University of Western Ontario in June 2002 and has held faculty appointments with the University of Ottawa since 2002. Tammy and her husband became first-time parents in April 2004, and one year later Tammy joined the Canadian Agency for Drugs and Technologies in Health as the Director of Project Quality in the Health Technology Assessment Directorate.
Anthony Davis, PhD'92, works at Los Alamos National Laboratory in Santa Fe, New Mexico. Anthony and his wife, Kristine, are delighted to announce the arrival of their twin sons, Arthur Eliot and Benjamin Ezra, in March 2006. Anthony and Kristine welcome news from friends at tony_davis@cybermesa.com.
---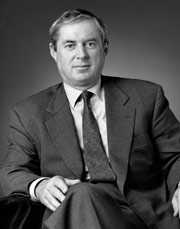 Timothy R. Carsley
, BA'58, BCL'61, has joined McGill as Legal Counsel dedicated to the area of Development, Alumni and University Relations. In this new role, he provides legal advice and support to staff and administrators across the University on matters relating to gifts made to McGill. A member of the Quebec bar since 1962, Tim has for some time provided guidance to the University as the partner in the firm of Borden, Ladner, Gervais (BLG) responsible for the McGill account. BLG has agreed to a two-year secondment to allow McGill access to his legal expertise on a full-time basis.
---
Jean-Philippe Darche, BSc'97, played in Super Bowl XL as the long-snapper for the Seattle Seahawks, who lost to the Pittsburgh Steelers 21-10. J.P. was only the second player from a Canadian university to participate in the Super Bowl.
Jake S. Sherkow, BSc'04, completed a master's in biotechnology from Columbia University in February, and will be entering law school at the University of Michigan.
Cymanthia Thomas, BSc'05, is the recipient of Ross University's Eliza Anna Grier Scholarship, which is worth $2,000 per semester and is named for Dr. Eliza Grier, who was the first African-American doctor in the state of Georgia. Cymanthia will be studying in Ross's School of Medicine.
Social Work
Rachel (Arlene) Gunner, BSW'72, MSW'73, has published her first book, Beyond These Walls: The True Story of a Lost Child's Journey to a Whole Life, about her work with a woman with 26 personalities. Rachel is a psychotherapist in private practice in Austin, Texas, where she lives with her husband, Morrie. Her daughter is a Rhodes scholar working on her doctorate at Oxford.
Roanne Weisman, BSW'74, has had three new books published in the "Own Your Health" series: Your Sick Child (HCI, 2006), with John D. Mark, Pain (HCI, 2006), with Adam Perlman, and Healthy to 100 (HCI, 2006), with Alexa Fleckenstein.
Jane Blanchard, BSW'91, works as a prearrangements counsellor and social worker at Kane & Fetterly Funeral Home with Bridget Fetterly, BA'89, who is the president and owner of the Home.