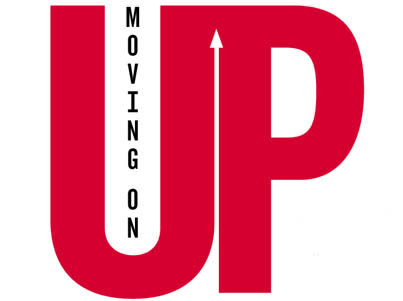 As they pursue higher degrees, McGill's 6,000 graduate students play a crucial role in taking the University to the top ranks.
According to the stereotype, they are pasty-faced, overworked and sleep-deprived. Supported by meagre budgets, they survive on coffee and microwave popcorn. They swear they'll start writing their thesis soon. They are graduate students.
If you've seen the popular Stanford comic strip called "Piled Higher and Deeper" - "PhD" for short - you may have laughed at the antics of this special breed of student, often portrayed as over-age slackers avoiding entry into the real world.
James Nemes, McGill's interim Dean of Graduate and Postdoctoral Studies, says nothing could be further from the truth. He cites a few of the University's accomplishments in 2005: topping the Maclean's magazine survey of Canadian universities, ranking 24th in the world according to London's Times Higher Education Supplement, and again being named Research University of the Year in Canada by Research Infosource.
Those honours are thanks in large part to McGill's 6,000 master's and doctoral students, according to Nemes. "The fact is, without our graduate students, we simply would not be there. They are one of the most important things the University is about."
When McGill recruits an academic star from the science or engineering world, that professor may well need lab space and equipment, but at the top of their list are the graduate students who work in those labs, do much of the research and even write up the results published in journal articles.


"We're a research-intensive university and the reality is that the majority of research is carried out by PhD and master's students," says Nemes. "It's not a professor who's getting in there and doing the experiments - it's the direction the professors give to students. So having top-quality grad students is really important for McGill's research reputation."
Principal Heather Munroe-Blum recently reiterated to Maclean's magazine what she has known since her days at the University of Toronto as head of research - that without an influx of properly funded graduate students from Canada and around the world, innovation and productivity will "sink like a stone."
Competition for those students is fierce, and the battle has gone worldwide, as universities in Europe, Australia and elsewhere get more aggressive about recruiting the top candidates everyone wants. Selling McGill to students in this competitive climate becomes a matter of pushing the bigger picture.
"We're certainly not going to be able to compete right now with the U.S. if the student is simply looking for the best funding," says Nemes. "So we have to compete on what our strengths are. And we have a lot of strengths."
Nemes cites McGill's top research programs as a prime factor in the University's appeal. Whether it's in high tech or health care, Shakespeare or social policy, there are recognized leaders in each discipline. Smart students are making their decision not just based on money: they're looking at who they get to work with.
"When they see that McGill is ranked 24th in the world, that's a big draw," says Nemes. He also points to Montreal as "a great attraction. We have a real multicultural city, so if a student's deciding between coming to McGill or going to the University of Iowa, we have some distinct advantages."
For Maryse Bourgault, a PhD student in plant science at Macdonald Campus, the researchers she'd been exposed to in her undergraduate work in McGill's School of Environment were a big part of her choosing McGill again. Plant science professor Don Smith's work on crop eco-physiology and improving food supplies "was something I thought was really cool," says Bourgault, "and I was really interested in joining in on that research." She ended up as one of Smith's graduate students, doing lab and field work on the drought tolerance of lowly but nutritious legumes that has taken her as far away as Uzbekistan.
"I'm passionate about the subject and the advantages it can bring," she says. "People can't only live on grains, they need protein as well, and many people around the world don't have the money to buy meat. So legumes, which are high in protein, are a great alternative. If you can improve their drought tolerance, then it opens a new door to food security in countries in the Middle East, North Africa and Asia."
No Life Like It
The transition for students from undergraduate to graduate studies certainly means more work and tougher standards (two failed courses and you're gone), but they seem to thrive on it. "We're going into much more depth compared to the undergrad experience," says Bourgault. "That I find very stimulating."
"In an undergraduate program you get more choice as you go along, but by the time you reach your graduate program, it's wide open, and I really enjoy that," says Simon-Wade Bessette of his master's program in political science. Bessette holds the Banque Nationale Fellowship at the McGill Institute for the Study of Canada (MISC), awarded to a top student "Canadianist," and his research focus is on Canadian judicial politics. He appreciates the smaller classes and flexibility of his program. "It's very one on one, and you're given wide discretion in choosing what you want to write about. I like to be an independent thinker."
Flexibility is important to Beverly Baker as well, a first-year doctoral student in the Faculty of Education. Like many graduate students, Baker is not fresh from an undergraduate degree, having four other degrees and career experience as a teacher of English as a Second Language (ESL) and academic writing in Montreal, as well as abroad in Japan, France and recently, the United Arab Emirates. Upon returning, Baker and her husband had a baby daughter.
"I was writing my research proposal for my doctorate and she was four months old, so I was literally bouncing her on my knee while I was typing."
The Faculty offers an ad hoc PhD program that's "made to measure," says Baker, who is examining the social and political aspects of "high stakes" English language testing such as one finds at universities. Drawing on her background in ESL and linguistics, Baker "found the reasons why people said they were giving these tests and the uses of the results by the institutions didn't always jibe. I saw that non-native speakers were being treated in a very unfair fashion - as almost cognitively deficient, not just lacking certain English skills. They're institutionally marginalized. That's what got me going."
But raising a family while living as a student can be more of a test than any language exam. "There are so many more demands on your time - and mentally as well." For Baker, academic success under these circumstances becomes "the difference between an accomplishment and a triumph."
The difficulties students encounter are well known to Medhi El Ouali, a PhD student in physics and president of the Post-Graduate Students' Society (PGSS). Part of the PGSS mandate is running Thomson House, the limestone mansion on upper McTavish Street that has been converted to a grad student hangout with a bar, restaurant, lounges and meeting spaces. PGSS also lobbies both the University and government on students' behalf for things like more office space, better training for teaching assistants, and better funding.
Many international students are older and have families. "They have different expectations," says El Ouali, "different lifestyles. They often have children, need daycare, and need to find proper housing." The accompanying financial struggles can become a big impediment to success, so El Ouali sees it as important to provide them with work opportunities.
That can be a double-edged sword. Working to make ends meet can mean students delay their studies, and some never finish. "A lot of the people I know take longer to graduate, and if they weren't so determined they might actually quit," says El Ouali. The problem can become more acute in the arts and humanities, where funding through fellowships, grants and professors' research budgets is less certain.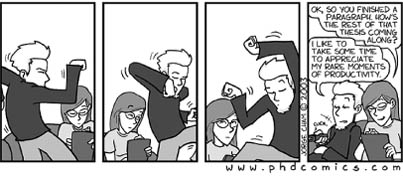 Jorge Cham's comic strip 'Piled Higher and Deeper' pokes fun at graduate students and the challenges they face.
The Funding Crunch
The University of Toronto has lately been trumpeting guaranteed funding for all of its graduate students. Though not as publicized, there are areas within McGill that have their own guaranteed funding. "Almost the entire Faculty of Science had guaranteed funding programs in place long before U of T even announced their package," says James Nemes. Private donations - such as Richard Tomlinson's multi-million dollar support of fellowship programs - often play a crucial role in McGill's ability to attract and retain top graduate students.
"But there are areas in which the students do not have that much funding," admits Nemes, "and that's one of the issues we're working on - bringing all of those levels up to something that's reasonable. Students should be able to come here and concentrate on their studies."
Another concern to Nemes is the tendency of students to work in isolation in the social sciences and humanities. "A professor in social sciences may not have a lab, so their students don't work together and may just work in the library or from home. They don't interact with other students - they're not on campus doing other things that are all part of the experience. Those students can lose their way and not complete their degrees. Completion rates are much higher in the sciences and engineering. Funding is one issue, but I think isolation is another."
Simon-Wade Bessette is active in the Arts Graduate Students' Society and is working to alleviate some of that isolation. "We're developing an annual conference and speaker series, where students will be able to pre-sent their work to faculty members and other graduate students, to help to refine their work, point out potential weaknesses or develop a fuller understanding of the material they're researching."
In the sciences, student research is more likely to be a component of a professor's project, with students forming part of a team working long hours together in the lab. That often leads to publishing in academic journals, important particularly for PhDs looking for future academic appointments.
But lab research can also lead students to careers in industry. According to David Plant, Associate Dean of Research and Graduate Education in the Faculty of Engineering, "The starting point of a new company can be a great idea by a really bright graduate student who's in the middle of their PhD thesis and they come up with a 'eureka.' And the Eureka becomes a company. The ability to think deeply about a problem and understand all of its components leads many students to be very creative and identify new product opportunities."
While many students are busy in labs, up to 50% of them end up with teaching assistantships, a rite of passage for many who will later become teachers and professors themselves. Bessette was a TA for two political science classes last semester and he lights up in describing the experience. "I really enjoyed it. A lot of it is teaching undergraduates what to look for in the course materials. You have to give them pointers, like 'this is not testable material, this is more something you might want to bring up one day at the dinner table to show the value of an arts degree to your parents.'"
Maryse Bourgault was a TA for an introductory plant science class and spent much of her teaching time outdoors at Macdonald Campus. "We'd go to the horticultural garden and the seed farm, and walk around the orchards talking about fruit structures and how to manage the orchards. People like it because we're outside and we're actually looking at the specimens: you can touch the apples and see for yourself. It's much more pleasant than some TA experiences. But we still have the stack of papers to correct."