The Thames, Yale University Press, 2005, $47.25, by Jonathan Schneer, BA'71, MA'73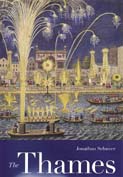 Jonathan Schneer, a professor of modern British history at the Georgia Institute of Technology, was a Visiting Fellow at Oxford several years ago. Eight months of walking the 20 miles of pathway along the River Thames gave shape to this cultural history of England's "national river." As Schneer notes in his preface, "Almost every mile brings to mind a historical event or a work of art or literature."
The sweeping scope of the work is organized in broad themes that intertwine the river's and the country's histories, attempting to convey their "mythic qualities." Schneer explains how the Thames became an icon of national identity, linked in the public mind and poetic expression with a sense of nationhood and liberty, from the time of the Magna Carta.
Schneer portrays the river as avenue of commerce and communication and, throughout, he illustrates the interconnection of the people and the river with references to the vast social changes occurring from the period of Elizabethan sea dogs to the transformation of east London in the 1980s with the City Airport and Canary Wharf projects.
He touches on the earliest inhabitants as well, and we learn that the Thames is believed to have played a spiritual role during the Bronze Age. The quantity of metal work found in the waters is seen as evidence of offerings to a supernatural entity, a river god or goddess.
The river is the scene of incarceration and execution at the Tower of London, the triumphant wedding flotilla of Anne Boleyn, and the funeral procession of Winston Churchill. We follow the "tides of history" through intrigue, romance, flood, rebellion and death. "The military aspect of the river is a constant," from the battles of the Vikings and Saxons, to conquering Normans, to the devastation of the bombing of London during World War II, when the characteristic loops of the river around the city helped orient German pilots.
Contrasts are everywhere: descriptions of the work of painter J.M.W. Turner seem worlds away from the misery of prison ships and the stench of the water (when the steamer Princess Alice sank in 1878, many survivors later died from their exposure to the pollution). Schneer shows us that there are really "two rivers" - the tidal river that links Britain with the rest of the globe, and "the sweet Thames running softly west of London," beloved of poets and artists such as William Morris and Stanley Spencer. Morris was so fond of the river and its surrounding countryside that he called it an earthly paradise.
The book contains several colour plates (paintings by Turner and Spencer) as well as 17 pages of notes and bibliographic references. While the author acknowledges that there are many other works written about aspects of the River Thames, he feels the subject is as inexhaustible as English history itself.
ELIZABETH HOLLINGSWORTH
Nellcott Is My Darling, Coach House Books, 2005, $17.95, by Golda Fried, BA'94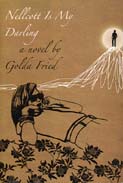 In this follow-up novel to Darkness Then a Blown Kiss, her debut collection of short stories, Toronto native Golda Fried introduces us to Alice, a neurotic and naive McGill freshman whose buttoned-down world is turned inside out by an unlikely romance with guitar-slinging, cigarette-smoking slacker Nellcott Ragland.
Alice's adventure begins when she joins the Film Society and meets the first of a cast of characters that quickly grows to include Allegra, the equally neurotic but infinitely more experienced artist; the aptly named Cricket, whose chirping over Alice and Allegra's burgeoning friendship contrasts with the roar of resentment from Alice's best friend from high school, Bethany. And, of course, the dangerous Nellcott.
Montrealers and McGillians will enjoy Fried's many references to the city and the University as they follow Alice through the rabbit hole of a young life in transition. Locations ingrained in the minds of many alumni, such as the Leacock Building and the Bifteck, pop up and delight the way a favourite haunt might do in a locally shot film ("Hey, I've been there!").
The reader will also have "been there" if they can recall the terror and turmoil of leaving home for the first time, having to make new friends and leave old ones behind, and discovering the vices and vagaries of a strange and exotic city filled with people who are nothing at all like the people back home.
It's a classic coming-of-age tale told in the wide-eyed language of the young and untravelled, though Alice certainly roams a wide and varied landscape of conflicting emotions and self-doubt. Her eventual destination is heightened self-awareness, but the journey is fraught with hard-learned lessons.
According to her publisher, Fried fans particularly enjoy the author's "Golda-isms," little bits of quirky imagery, incongruous similes or metaphors ("The students were a flock of birds in front of him flapping pages." "He would somehow find out where they were and show up at their table like a spilt drink.") The incongruity of Alice's relationship with Nellcott is perhaps the best metaphor of all, though, symbolizing the extent to which people can change once they've wrestled free of the apron strings.
MICHAEL BOURGUIGNON
Sir William Hingston 1829-1907: Montreal Mayor, Surgeon and Banker, Price-Patterson Ltd., 2004, $29.95, by Alan Hustak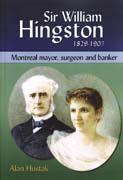 McGill graduate Sir William Hingston, MDCM'1851, did much to shape the city of Montreal; these days, he is mostly forgotten. But Alan Hustak's biography of Sir William shows him "at the centre of Montreal's medical, business, social and political life," acting as chief surgeon for 25 years at the Hôtel-Dieu Hospital and helping to "lay the groundwork for what is now the Université de Montréal."
He served two terms as mayor of Montreal, guided the city through smallpox epidemics, was president of the Montreal City and District Savings Bank (today the Laurentian Bank of Canada) and was a Canadian senator for 11 years, before his death in 1907.
Despite his impressive record, Hingston is relegated to being "a shadow from a bygone era." Hustak attempts to remedy this undeserved obscurity and presents a portrait of a distinguished physician who was a unique product of his time and place, a Montrealer who "bridged ferocious linguistic, secular and religious divisions of the time."
McGill alumni will note the section on Hingston's education, taking place on a ramshackle McGill campus of the mid-19th century, which in the words of the University's fifth principal, Sir William Dawson, consisted of "unfinished and partly ruined buildings and a wilderness of excavators' and masons' rubbish overgrown with weeds, pastured at will by herds of cattle cropping grass, browning in shrubs, with the only access from town by a circuitous and ungraded cart-track, almost impassable at night."
Hingston enrolled in pharmacology at McGill, and switched to medicine "out of boredom" when he discovered in his first term that "he knew as much about pharmacology as his teachers." McGill's prestigious medical faculty was not in much better shape than the weedy campus at the time: teaching was uneven and lectures "monotonous," while young medical students would sneak into cemeteries and morgues to find fresh bodies to dissect, a practice known rather darkly as "resurrectioning." Despite these limitations, Sir William graduated and became a celebrated physician, pioneering in gynecology and obstetrics "before they were recognized as medical specialties," and being knighted as one of the first modern surgeons in Canada. Stephen Leacock later included him on a select list of McGill graduates reserved for those "whose name forms a roll and scroll of honour unsurpassed," and Hingston himself, notes Hustak, was involved in the creation of the Graduates' Society of McGill University in 1857.
Some quotations from other sources are unfortunately unattributed (such as the above description from Dawson), but the book is full of details and anecdotes of Victorian-era Montreal, making it a fascinating read for enthusiasts of the city's history.
ANDREW MULLINS
The Rebel Sell: Why the Culture Can't Be Jammed, HarperCollins, 2004, $29.95, by Joseph Heath, BA'90, and Andrew Potter, BA'91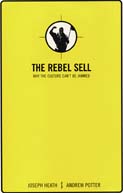 Tired of your Gap sweatshirt and your Levis? Want to dress up in radical new threads, thumbing your nose at society's stale conventions? If so, you're one of capitalism's driving forces.
Counterculture bolsters capitalism because just about everybody wants to stand out from the crowd. We all want to be distinct and cool. And businesses are more than happy to turn a profit on anything people want to buy - be it biker jackets, nipple piercings, organic produce or Naomi Klein's latest attack on the evils of corporatism.
In The Rebel Sell, McGill Dailyites-turned-academics Joseph Heath (now a philosophy professor at the University of Toronto) and Andrew Potter (a visiting fellow at the Centre de Recherche en Éthique at Université de Montréal) argue that most popular attempts at rebelling against the mainstream culture generally end up being absorbed by it.
Sprinkling references to such thinkers as Hobbes, Marx, Freud, Foucault and Baudrillard throughout the book, the authors take potshots at a wide range of popular trends favoured by the political left - everything from Eastern spirituality (generally practised in the shallowest of fashions by Westerners) to the popularity of free-range chickens (when given the option to roam, most chickens huddle together in the dark).
What really annoys Heath and Potter is how so many of the Left's leaders have abandoned the hard work associated with making actual, if slow, improvements to society in favour of an unrealistic "tear everything down and rebuild it" approach.
Michael Moore's Oscar-winning Bowling for Columbine is held up as an example. The movie looks at how the young killers who went on a shooting spree at Columbine High School in 1999 got their hands on their weapons. Moore blames it on a pervasive culture of fear that has its origins in the roots of American history. He basically pooh-poohs the notion of gun control, arguing instead, in the authors' words, for "a total transformation of American society."
Moore looks approvingly to Canada in the film, noting that the incidence of gun crimes is relatively low despite the high number of guns available. It's because we have more stringent gun control laws, the authors argue. Moore skips past a perfectly reasonable solution because it isn't "radical" enough to suit him.
Rebel Sell is an invigorating read, although Heath and Potter can be a little too dismissive of some lefty activists - they pummel Adbusters founder Kalle Lasn for introducing his own brand of sneakers, but give his groundbreaking publication little credit for its probing skepticism of modern advertising techniques.
The book was recently released in the U.S. under the title Nation of Rebels: Why Counterculture Became Consumer Culture.
DANIEL MCCABE, BA'89
Love as a Foreign Language, Volumes 1 and 2, Oni Press, 2005, $6.95(U.S.), by J. Torres and Eric Kim
Scandalous, Oni Press, 2004, $9.95(U.S.), by J. Torres, BA'93, DipEd'94, and Scott Chantler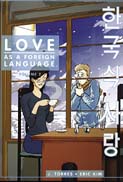 James Torres has earned a reputation as an unusually nimble comic book writer. The subjects he has tackled so far range from girl bands to giant robots to teenaged superheroes. He is also one of the comics industry's better scribes when it comes to the few titles still aimed at youthful readerships - his work on such titles as Alison Dare, a series about an adventurous private school girl whose relatives include a superhero and a spy, offer spry, non-condescending thrills and giggles.
Some of Torres's most recent books are for an older audience. Scandalous is a witty, quick-moving tale that explores some of the less savoury aspects of life in '50s-era Hollywood. Celebrities revel in the glitz and glamour of the high life, all the while looking over their shoulders, knowing that the wrong kind of rumours can end their careers. Torres deftly parallels the toxic effects of Joseph McCarthy's crackdown on Hollywood leftists with the poisonous impact of the period's powerful gossip columnists. Scott Chantler's robust cartooning style nicely matches Torres's blend of lightheartedness and menace.
Torres's other recent release, Love as a Foreign Language, chronicles the misadventures of English-as-a-second-language teacher Joel in South Korea. Any Westerner who has taught English in Asia will chuckle knowingly as Joel contends with big bugs, unusual food and the mind-numbing repetitiveness of inviting class after class of students to discuss their favourite fruit.
Joel is ready to pack his bags and head home when he spots lovely Hana Song. The second volume drags a bit in comparison to the first and I confess to having more interest in Joel's fish-out-of-water relationship to South Korea than in his nervous adoration of Hana. Hopefully, future volumes will play up the first element while giving the second more depth.
Very much influenced by the style of Japanese comics, Love as a Foreign Language is a breezy, amiable read, enlivened by Eric Kim's simple but expressive art, and recently netted Torres a nomination for "outstanding Canadian comic book writer" from the Shuster Awards, a new group of prizes aimed at Canuck comic creators. In fact, Torres is the only writer with two nominations in the category - the other is for his work on Teen Titans Go!
DANIEL MCCABE, BA'89
75 Books from the Osler Library, Osler Library of the History of Medicine, 2004, $40, compiled by Faith Wallis, BA'71, MA'74, MLS'76, and Pamela Miller, BA'66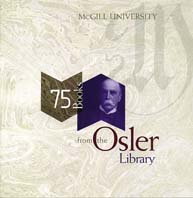 This volume is published in honour of the Osler Library's 75th anniversary. Edited by History of Medicine Professor Faith Wallis, and head Osler Librarian Pamela Miller, the book showcases volumes from the library's collections with commentaries from invited scholars, most of them McGill academics, and all of them habitués of the Library in their research and teaching duties. Each entry is beautifully illustrated with examples from the selected works. The book does not focus on a few specific treasures of the library, nor does it include many of the volumes that Sir William himself declared significant. Instead, the editors have attempted to capture something of how the library is used by scholars, students, librarians and teachers by featuring the works of interest to those users.
They do a marvellous job. Artifacts like an 8th-century Assyrian cuneiform tablet bearing various cures for eye diseases or illustrations from 18th-century Dutch physician Frederik Ruysch's anatomical "cabinet of curiosities" make for fascinating viewing and reading. Wallis contributes approximately half the descriptions, and admits to being biased towards illustrated works of anatomy. These entries are some of the most interesting and have some of the best illustrations, such as the "anatomical art" from Charles Estienne's 16th- century De dissectione partium corporis (The Dissection of the Parts of the Body), which features a cadaver "helpfully leaning over a dissection table in a ruined courtyard to let us see the ventricles in the brain." There are many more such unusual treasures in this handsome volume.
The book is available through the Osler Library's website at www.health.library.mcgill.ca/osler/publications.htm#75.
SARAH PRINGLE, BA'05
A Short Journey by Car, Esplanade Books/Véhicule Press, 2004, $16.95, Liam Durcan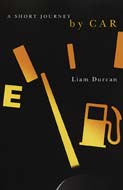 Durcan is a professor of neurology and neurosurgery at the Montreal Neurological Institute, and A Short Journey by Car is a collection of 16 masterfully told short stories. The prose is crisp with detail and the stories abound in odd characters: Stalin's dentist, a trucker smuggling toilets across the American border, a student working in a meat-packing plant, a maître d'hôtel in a Parisian café witnessing the birth of modern cinema.
The storytelling relies as much on what is not being described as what is, creating a wonderful tension of dramatic irony between reader and character. Durcan has won the 2004 QWF/CBC Quebec Short Story Competition and has been nominated for the Journey Prize. The fiction in this collection is atypical in its broad scope and varying narrative styles, but it is never flashy and is executed with skill and restraint.
ANDREW MULLINS
Between the Doorposts, Ekstasis Editions, 2004, $16.95, Isa Milman, MSc(A)'83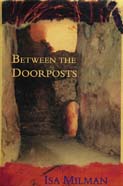 Milman is a daughter of Holocaust survivors and writes, "I was born a displaced person in Germany, grew up in the United States, and have lived my adult life in Canada. This collection of poems is about my living in between." These are poems that work the intersection between the personal and the historical, small moments between lovers or family members contrasted with events of the greater world. Many of them explore and celebrate the author's Jewish identity and family history. The themes of displacement, faith and loss in the collection are not overwhelming or morbid, as the language is precise, light and rhythmic.
ANDREW MULLINS