10,000 and Counting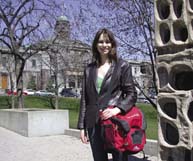 Elise Juzda, BA'04, didn't expect any hoopla as she was signing up for the Alumnilife website. But after sending in her registration information, it turned out that she was the 10,000th member of the McGill Alumni Association's online community. The bells rang out, the sirens wailed, the balloons came floating down from the ceiling, and Ed McMahon was banging on her door with an oversized cheque.
Well, not quite, but she was rewarded with a nifty McGill travel bag, her photo appeared on Alumnilife, and now she's in the McGill News. "It was quite a surprise!" said Elise, who was particularly eager to get the "email for life" service that comes with an Alumnilife membership.
Since going online a year and a half ago, Alumnilife has attracted graduates of all ages and from all over the world - recent signups were from Germany, the United Arab Emirates, Hong Kong, Bahrain and Indonesia. The website has been especially popular with recent graduates: about a quarter of the Class of 2004 is signed up and similar numbers are expected for the Class of 2005.
Besides email for life, features on the website include worldwide McGill events listings, personal profiles of graduates, "Alumni Search" and class lists. The "Reconnect" feature, a service which allows members to get in touch with fellow McGill graduates via the Alumni Association, was inundated with requests as soon as it went online. Plans are in the works for a bulletin board, weekly surveys, and streaming video of Homecoming activities. To check out Alumnilife, visit www.alumni.mcgill.ca/alumnilife/.
And don't forget to sign up!
The Accidental Physician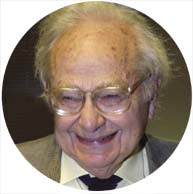 Harvard neurobiologist David Hubel, BSc'47, MDCM'51, DSc'78, has had no shortage of illustrious awards in his career. One of a handful of Canadians to have earned the Nobel Prize (in 1981 for medicine), Hubel also has a dozen honorary degrees to his credit. His latest distinction is his induction into the Canadian Medical Hall of Fame.
Together with fellow Nobel laureate Torsten Wiesel, Hubel is responsible for groundbreaking studies illustrating the complex cellular processes associated with how our brains receive and make sense of visual information. For someone whose research revolutionized the way we think about sight, Hubel began his medical career in unspectacular fashion. Having graduated from McGill with a degree in physics, he applied to McGill's Faculty of Medicine "almost on the toss of a coin," according to Brain and Visual Perception, a new book he co-authored with Wiesel.
McGill's response caught him off-guard. "Rather to my horror I was accepted." It was bumpy at first, but he soon got the hang of medical school and developed an interest in neurobiology. He made an appointment with Wilder Penfield, legendary founder of the Montreal Neurological Institute, to inquire about the possibility of contributing to research projects. "I felt like a lowly monk going to an interview with the pope," he recalled of the meeting.
Penfield took a shine to Hubel, introducing him to his MNI colleague Herbert Jasper, MDCM'43, DSc'71, a pioneering neurophysiologist who would soon become an important mentor. Hubel did a year of clinical work under Jasper's tutelage and says he was "unequalled for his breadth and clarity of thinking in brain science."
This period of Hubel's life proved to be essential in another regard - as a member of the McGill Choral Society, Hubel met his wife, Ruth.
When Hubel and Wiesel began their work together in the late '50s at Johns Hopkins University, precious little was known about the visual cortex. Today it is probably the best understood part of the brain. The journal Science recently declared their partnership "one of the most productive collaborations in the history of biology."
McGill Remembers
For most 18- and 19-year-olds at McGill today, the concept of going off to war by the thousands would be unthinkable. But for McGill students during the Second World War, it was a horrible reality. More than 5,500 men and women from the University joined the war effort, nearly 300 of them dying in service.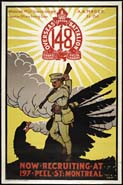 Courtesy McGill Rare Books and Special Collections
Now two McGill staff members have created a website to honour those members of the University community who served in World War Two. Education professor Chris Milligan and Wes Cross of the Dean of Students Office created the "McGill Remembers 1945-2005" site to mark the 60th anniversary of the war's end.
Before he built the site with Cross, Milligan had been thumbing through yearbooks for a potential project for Canadian high schools.
"I'd look through these books and there would be 20 pages of chaps in uniform who had died," Milligan told the McGill Reporter.
Much of the source material for the site originates in R.C. Fetherstonhaugh's McGill University at War, itself built in part on articles and lists of students and graduates missing, wounded or killed in action that Fetherstonhaugh compiled for the McGill News during the war.
All the names of those who served and died are listed on Milligan and Cross's website. The entries are also linked to images of the corresponding pages from Veterans Affairs Canada's "Books of Remembrance" on display in the Peace Tower on Parliament Hill in Ottawa, and to the Debt of Honour Register of the Commonwealth War Graves Commission, a database listing the Commonwealth forces who died in the two world wars.
"[McGill Remembers] is a labour of love," Cross told the Reporter. "It's very interesting to see the names of those who walked the same corridors and hallways and avenues that we did."
The site also includes articles, photos and a link to a fascinating online exhibition from McGill Libraries called the Canadian War Poster Collection. To see "McGill Remembers 1945-2005," go to www.education.mcgill.ca/ww2fields/mcgill/.
Au Revoir to Vinet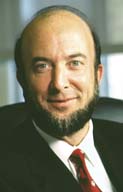 Nicolas Morin
After six years as McGill's number-two man, Luc Vinet has crossed to the other side of Mount Royal to become the Rector of Université de Montréal. It's familiar turf for the dapper physicist. He earned his PhD from the institution, taught there for 17 years and was the director of their Centre de recherches mathématiques.
"McGill was a wonderful experience," says Vinet, who served the University as both its Provost and Vice-Principal (Academic). "I always found the McGill community to be extremely warm and I felt very welcome right from the start. I was privileged to work with two great principals - Bernard Shapiro, who hired me, and Heather Munroe-Blum, who adopted me."
If Vinet has his way, he won't be a stranger. His new and old schools are already linked together in a wide range of teaching and research partnerships and one of Vinet's goals is to build on those ties.
"At the end of my time here, I will be very disappointed if we do not succeed in designing more elaborate ways of collaborating with one another." Noting that both McGill and U de M are adding new medical research facilities that each involve 180,000 square feet of lab space, he adds that a similar new facility at the University of British Columbia boasts 800,000 square feet. "That's the competition. That's why we need to team up."
Vinet officially began his new job on June 1. His first big task was to assemble a team of vice-rectors. Having been impressed by McGill's worldwide reach, Vinet created the position of Vice-Rector International. "This university deserves far more international recognition," Vinet explains. "We have tremendous research programs. This is the second-largest university in Canada, with almost 55,000 students, and yet we are way under-recognized."
Vinet will probably be best remembered at McGill as the chief architect of the University's ongoing academic renewal process. McGill is midway through the process of hiring 1,000 new professors over a ten-year period.
Vinet "contributed significantly to advancing McGill's academic strengths," says Principal Munroe-Blum. "He will be a superb leader of his alma mater and our great sister university."