A Matter of Degrees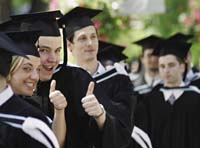 Owen Egan
They came, they saw, they convocated. Close to 6,000 McGill graduates donned caps and gowns for spring convocation ceremonies, bidding farewell for now to their alma mater in what Principal Heather Munroe-Blum characterized as "the culmination of a journey."
In a recent return to tradition, all degrees are presented on campus. For most faculties, the ceremonies took place under a tent on McGill's lower field. The Faculty of Agricultural and Environmental Sciences celebrated at Macdonald Campus, while the Faculty of Music convened at Pollack Hall. The McGill Alumni Association welcomed new grads into the fold at special receptions following each day's ceremonies.
To ease the stress of graduation and its attendant to-do lists, students had a little extra help this year in the form of an online convocation guide. Conceived by David Harpp, University Marshal, and Edith Zorychta, University Vice-Marshal, the guide consisted of a narrated slide show in both English and French covering everything from where to find parking to quick tips on wearing hoods and high heels.
The week of convocation activities kicked off on May 27 at Macdonald Campus, where honorary degree recipient Jeffrey D. Sachs, environmentalist, author and director of the United Nations' Millennium Project, addressed graduates and their families. Others honoured by McGill included Rick Hansen, athlete, coach and advocate for the disabled who has raised $26 million for spinal cord research, Jack Rabinovitch, BA'52, philanthropist and businessman who founded the Giller Prize, Canada's top award for fiction writing, L. Yves Fortier, BCL'58, former president of the United Nations Security Council who also served as president of the London Court of International Arbitration from 1998-2001, and Victoria Tennant, who, as Prima Ballerina with the National Ballet of Canada for 25 years, partnered with Rudolf Nureyev and Mikhail Baryshnikov and has established a new career as an actor, broadcaster and lecturer.
For more on this year's honorees, including the distinguished McGill academics named to emeritus professorships, see www.mcgill.ca/newswire/?ItemID=15632. To view the convocation guide, visit www.cool.mcgill.ca.
From Chambers to the Chambre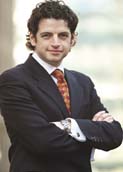 The life of a young lawyer is a busy one, but Jan-Fryderyk Pleszczynski, BCL/LLB'00, appears to like it that way. The 27-year-old has recently become President of the Jeune Chambre de commerce de Montréal (JCCM), the largest network of young businesspeople in North America. From that perch, he is looking forward to a year of parties and public outreach, as the organization prepares to celebrate its 75th anniversary.
"We have a large young business community, and we want to ensure that everyone in it is represented," says Pleszczynski, who notes that the traditionally all-francophone organization is coming to reflect the linguistic and cultural diversity of Montreal. The Sherbrooke native says his priorities also include focusing public debate on work-life balance, university financing and other issues that matter to young professionals.
Despite his new role and his commercial law practice, Pleszczynski continues to find time to keep up with campus life. He sits on the Board of Directors of the McGill Legal Information Clinic, helping students provide assistance to people in the community.
"I've always been fond of my alma mater," he says. "There are so many people that I know, and I think important ties can be made between the business community and the university community."
Those ties won't be hard to maintain as Pleszczynski will be joined on the JCCM executive by a slew of Vice-Presidents with McGill connections, including Charmaine Lyn, BA'96, BCL/LLB'03, Assistant Dean of External Affairs at the Faculty of Law, Frederic Brassard, BCL/LLB'00, Kasra Moozar, BEng'95, and Leslie Quinton, a part-time teacher in Continuing Education's Department of Career and Management Studies.
Let's Get Crackin'
In the quest for safer, more savoury poultry products, researchers at McGill and Université de Montréal thought it best not to put all their eggs in one basket.
The universities have teamed up to create two separate facilities that together will form the Centre for Poultry Research, a unique grouping of poultry experts and physical resources that do not currently exist in Canada.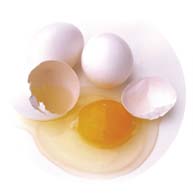 istockphoto.com
Researchers will work toward a common goal: the production of disease-free poultry, the elimination of antibiotics in poultry feed and the production of high-quality, safe poultry products for Canadian consumers and export customers.
"The objective of the Centre for Poultry Research is to ensure the quality and safety of poultry products through the application of new production technologies," says Dr. Deborah Buszard, Dean of the Faculty of Agricultural and Environmental Sciences at Macdonald Campus, which is home to McGill's new poultry research facility.
Researchers at the Donald McQueen Shaver Poultry Complex, named in honour of one of Canada's pre-eminent poultry experts and the recipient of an honorary Doctorate of Science from McGill in 1983, will focus on nutrition, physiology, genetics and disease management.
The U de M's site, in Saint-Hyacinthe, will be Canada's only level-2 disease-containment facility for poultry research, providing a secure environment for handling micro-organisms and pathogens.
The partnership could not be better timed, according to Dean Buszard. Recent outbreaks of avian influenza and a rise in antibiotic-resistant bacterial diseases demonstrate the need for concerted research efforts.
McGill's Fab Four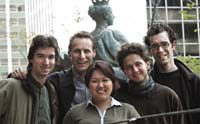 Owen Egan
McGill's Lloyd Carr-Harris String Quartet are known for making beautiful music, but when they competed this spring at the Fischoff National Chamber Music Competition, they also made history. The quartet became the first Canadian ensemble to win the grand prize. As well, they walked away with the gold medal in the Senior String category, performing works by Canadian composer Brian Cherney, and by Haydn and Beethoven.
The prestigious competition, held at the University of Notre Dame in Indiana, is one of the largest of its kind in North America. As top prize winners, the quartet were awarded $7,500, and will tour the U.S. Midwest in October and appear at the Emilia Romagna Festival in Italy in 2006.
The ensemble consists of Faculty of Music students Emmanuel Vukovich and Aya Ito (violin), Frédéric Lambert (viola) and Christian Elliott (cello). They're coached by André Roy, assistant professor of viola and string area chair, who formed the quartet in 2002. Roy calls their achievement "an outstanding feat, and a well-deserved honour. The excitement, the unity, the depth of the musical language of these young musicians - everything testifies to the superb work at all levels within the Faculty of Music," adds Roy. "This is a great reflection on the students and McGill."
Another important ingredient in their success is the support provided by String Scholarships from the Lloyd Carr-Harris Foundation. The scholarship money buys valuable practice time, says Lambert. "We're getting close to a professional level because we rehearse so much. The scholarships mean that we don't have to work outside to pay for tuition and living expenses, so we can play music together more."
The foundation was established in 1993 in memory of Lloyd Carr-Harris, BA'51, by his widow. It funds education, music and medical research and provides major support to McGill's Faculty of Music and the Montreal Neurological Institute.