Convocation Honours
There are undoubtedly many McGill graduates from the '60s and '70s whose university years had as their soundtrack a stack of Joni Mitchell albums. Records like Clouds, Blue, For the Roses and Court and Spark made Mitchell a star, and over the past four decades she has been one of the most influential and important figures in popular music, moving inimitably from folk, pop and jazz stylings throughout her brilliant career. Now McGill alumni and Joni have something in common: a McGill degree.

Mitchell was awarded an honorary doctorate at Fall convocation in October, and to celebrate the occasion, the Faculty of Music organized a one-day symposium dedicated to her artistic output, with Joni herself in attendance. It is generally considered a coup to have convinced her to come to McGill to accept the degree, with thanks going to Dean of Music Don McLean and Howie Klein, a music biz veteran who has worked with Alanis Morissette, Neil Young and many more, and who also happens to be on the board of McGill's Centre for Interdisciplinary Research in Music Media and Technology.
Mitchell wasn't the only one being honoured at the Fall convocation. McGill commerce graduate John Cleghorn, BCom'62, was awarded a Doctor of Laws. Currently the chairman of the board of SNC-Lavalin Group, Cleghorn is best known as the CEO of the Royal Bank of Canada during the 1990s, when he was hailed as a champion of corporate restraint and accessible leadership, selling the bank's corporate jet, eliminating executive limos and riding the subway to work.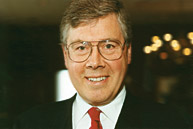 Cleghorn and his wife Pattie have been among Canada's most important philanthropic leaders and are great friends of higher education. Cleghorn has long been a member of McGill's Board of Governors and has served as Chancellor of Wilfrid Laurier University. He chaired McGill's last capital campaign, which set a national record at the time (1996) of $205 million. The Cleghorns have themselves funded important research in diabetes at McGill as well as the Sports Centre's hyperbaric oxygen laboratory.
Students research success stories
McGill professors have long had a high research profile, but recent news shows McGill students are no slouches themselves when it comes to the world of research. This year, 107 students and postdoctoral scholars have been awarded funding totalling $5.9 million from the Social Sciences and Humanities Research Council of Canada (SSHRC) for research ranging from same-sex marriage to Canadian pop music to competition in the health care system.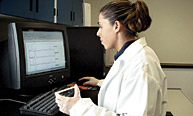 Nicolas Morin
"We are extremely pleased with these results," said McGill Dean of Graduate and Postdoctoral Studies Martha Crago, BA'68, MSc(A)'70, PhD'88. "It is a worthy recognition of our strengths in humanities and social sciences research."
Dana Wilson, a recipient of the SSHRC Canada Graduate Doctoral Scholarship and a graduate student in geography, is studying youth gambling in Montreal. She will look at children's access to video lottery terminals, focusing on the use of VLTs on the trip to and from school.
"Our studies will lead to a better understanding of video lottery terminals as one particular pathway in the local neighbourhood that influences the health and health-related behaviours of youths," says Wilson.
Joshua Goldstein is a postdoctoral researcher in political science and will use his newly awarded SSHRC grant to study the ethics of same-sex marriage.
"Being awarded a SSHRC fellowship is a great honour," he says. "I'm very excited to be able to work on this important research project at McGill, where there is such a depth and breadth of knowledge to draw on. To investigate the ethics of same-sex marriage involves crossing disciplinary boundaries, and it's a real comfort to know that the support and resources for this kind of project are available to researchers."
Geography master's student Tara Wilkinson received a SSHRC Canada Graduate Master's Scholarship. She will study the socioeconomic and ecological effectiveness of marine reserves and "underwater parks," where fishing is not allowed.
"We are looking into whether marine reserves help empower fishers and assist them in making a living, while helping to protect the environment," says Wilkinson. "Through this SSHRC-supported research, we are hoping to improve policy making and the management of our oceans so that stocks of fish and the livelihoods of a great many people stop vanishing in front of our eyes."