Olympians Head to Greece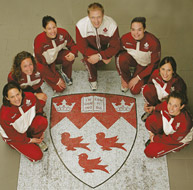 Allen McInnis
The Canadian women's national water polo team will soon be off to Athens to swim, to shoot and to conquer. As the country cheers on their efforts during the 2004 Summer Olympics, the McGill community will have special cause to root for the squad - half its members are either current students or recent graduates.
Coached by Patrick Oaten, BEd'96, team members include mechanical engineering student Marie-Luc Arpin, dietetics and human nutrition graduate student Melissa Collins, BSc(PT)'98, physiotherapist Andrea Dewar, BSc(PT)'01, physical education student Whynter Lamarre, physiology student Christine Robinson and business management student Jana Salat, BSc'03.
Going into this year's Games, the team is ranked fourth in the world in its sport. "The top five teams are very close," explains Arpin. "Games are usually won or lost by just a goal or two."
Water polo - similar to handball but played in a 30-metre swimming pool - doesn't command a wide following in North America. "That's actually one of the things I like about it," says Robinson."It's not something that everybody does."
Arpin, a veteran of the 2000 Sydney Games, says the Olympic experience is unique. "It really does seem as if the whole world stops for those two weeks." After years of training - and years of dealing with incredulous acquaintances who wonder why you work so hard for something that only happens once every four years - "you're suddenly surrounded by people from all over the world who totally understand," says Arpin.
At 19, Robinson is the team's newest and youngest member. Her teammates' advice has been simple and straightforward. "They warn me that there will be lots of distractions and that I have to stay focused on the task at hand." Robinson will indulge in one distraction, though.
"I can't wait to experience the opening ceremony. That's something I know I'll remember for the rest of my life."
Comical Playwright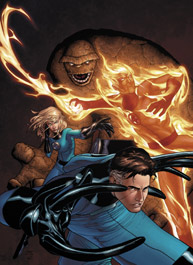 Marvel Comics
Roberto Aguirre-Sacasa, MA'97, has done something unusual for an award-winning young playwright starting to generate a buzz in the theatre world. He is writing a comic book about costumed superheroes - people who burst into flames or generate invisible force fields. Or maybe it isn't so unusual when you consider the types of plays that he conjures up.
Aguirre-Sacasa's The Mystery Plays, performed at Yale this spring and in New York in June, earned him the Kennedy Center's Roger L. Stevens Award for new American plays. The work deals with, among other things, a ghost haunting the lone survivor of a grisly train wreck. Other works involve UFO abductions (Dark Matters), the devil (Say You Love Satan), and the horrific consequences of a marine biologist's search for a giant squid (The Muckle Man).
Aguirre-Sacasa, who wrote the first treatment of his play Golden Age for the McGill Drama Festival and who performed in a Moyse Hall production of King Lear while studying at McGill, says spooky doings and supernatural elements have long been a part of theatrical tradition. "Even with Macbeth or Hamlet, there are all kinds of ghosts and magic and horror."
Aguirre-Sacasa says his ultimate aim is to develop his characters in a thoughtful and engaging way. Adding some sensational aspects to the work "is a way to hook the audience in. The family drama is such a well-known trope. This is a way of making it fresh and giving it new energy."
An admitted comic-book junkie, Aguirre-Sacasa was recently hired by Marvel Comics, publishers of Spider-Man and the X-Men, to script a new comic featuring one of the company's best-loved superhero teams, the Fantastic Four. The colourful quartet is composed of the Thing, Invisible Woman, the Human Torch and the stretchable Mr. Fantastic. In September, Aguirre-Sacasa's second comic, focusing on the adventures of Nightcrawler, the X-Men's popular blue-skinned teleporter, will debut.
Aguirre-Sacasa says penning comics has been an interesting change of pace. "The economics of theatre is pretty scary. I'll find myself thinking, 'Can I really create 14 roles knowing that 14 actors would have to be hired?' With comic books, I can do anything I want."