Sharing His Gift: The Man Who Loved Music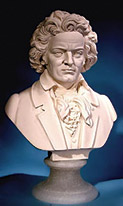 www.sculpturegallery.com
In 2001, I moved to Montreal from China with my seven-year-old daughter and my wife. On Saturdays our family always went to church. My daughter, Xin Ben, liked church music and wanted to learn to play piano. We bought a piano in July 2002, but neither my wife nor I knew how to play.
One beautiful afternoon several weeks later, my daughter and I came back from church by bicycle. We didn't go home on the path we usually took and we came to a park we hadn't visited before. Xin Ben wanted to play, so I found a bench where an old man was sitting. We said hello and began to talk.
"Are you Japanese?" he asked me.
"No, I am Chinese," I answered.
"I had a Chinese student once. I taught her piano," the old man said.
I told him Xin Ben had begged us to buy a piano, but that we did not know how to find a teacher. He asked her how old she was and which songs she liked. He asked her to sing a song for him. He was friendly, though he didn't tell us much about himself apart from his name: Daniel Mergler. He said to call him after Labour Day.
My wife took Xin Ben to her first piano lesson on September 15. Mr. Mergler had scheduled a one-hour lesson, but he found my daughter had musical talent and gave her a two-hour lesson. We wanted to pay for the extra hour, but he said it was his pleasure. He lived simply, no big house, no car. But he had a lot of books and two pianos in his small home. He really loved music, the piano and children. He had many gifts from his students on his pianos. They were beautiful and came from all over the world. On the walls were photos of his students, and portraits of many great composers.
Mr. Mergler not only taught Xin Ben piano, he told her stories about composers like Mozart and Beethoven. He wanted her to be able to play the notes, but also to understand the music. She was never tired, even after two hours of lessons. She looked forward to seeing Mr. Mergler every Sunday. When she learned skills, they sang a couple of new songs in a sight-reading book. He played beautiful pieces for her, just to let her know music is a wonderful world. He taught her Für Elise by Beethoven, Allegro by Mozart, and Ave Maria by Schubert. He opened her eyes and ears to music, and now her heart is blessed with its sweet sound.
In April 2003, Mr. Mergler called. He was in hospital because of cancer. We wanted to visit him, but he asked us not to bring Xin Ben. He wanted her to remember him playing piano. He was so weak that moving even a little bit was hard for him. When he told us of the seriousness of his illness and how he came to hospital by dialing 911 himself, we could not hold back our tears. He said he loved our daughter but could not teach her anymore because he was dying. He had a gift for her, a statue of Beethoven that he had received when he was nine years old. We took it from a closet in the ward - it was so precious that he had brought it to the hospital with him. We gave him a card from Xin Ben, and he gave us one for her. He read it to us:
Dear Xin Ben,
It's so hard to say goodbye, but I'm weak and can't teach anymore. Xin Ben, I love you very much and always remember that you were my best pupil. Please remember to always place Beethoven on your piano, just like I did all my life. Love me and remember me always.
On one of my visits, I asked Mr. Mergler what teaching Xin Ben meant to him. He replied that teaching her every Sunday had helped him fight his cancer by allowing him to forget his sickness, that every week he couldn't wait to see Xin Ben, and that she brought a light to his last days.
His condition deteriorated fast and the cancer spread, but his mind was always clear. He even arranged an introduction to another wonderful piano teacher, Alexander Solopov of McGill. When he learned that Mr. Solopov had accepted Xin Ben as his pupil, he was so excited, he raised his two hands and said: "Perfect!"
On May 25, I went to the hospital. Mr. Mergler was sleeping, so I put my flowers on the table and waited at the door. After a few minutes, a social worker came and told me he had passed away before I arrived. My tears came out - at 77 years old, Mr. Mergler had no relatives and had never married. He had almost no personal possessions. We received one piano and a lot of books as gifts given by his best friend and his landlord.
Mr. Mergler liked to tell our story in his last days. He said our story was like a movie in his memory. We loved and appreciated him so much. We will always remember this gentle and dedicated man.
---
Daniel Mergler, BSc'49, devoted 50 years to teaching piano. A June concert by some former students raised money for scholarships at the McGill Conservatory. Donations can be made in his memory by contacting the Conservatory at (514) 398-4543. An NFB documentary, Mr. Mergler's Gift, will be released this fall.
Peter Yu studied English at McGill's Centre for Continuing Education.