Warm and Fuzzy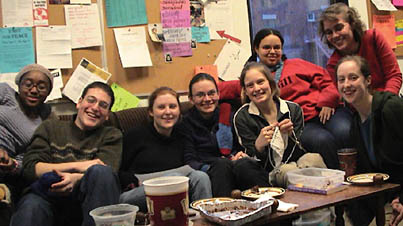 Courtesy Knitting Knetwork
Students looking for camaraderie, a plate of home-baked cookies, and someone to help them knit a one-of-a kind sweater can find all this and more in one cozy location on campus. The Knitting Knetwork, one of the newest of the more than 100 student clubs at McGill, offers a warm welcome to all comers at 6 o'clock every Tuesday night on the fourth floor of the University Centre.
The Knetwork was formed by second-year biochemistry student Abigale Miller and Natalie Galley, BEng'03, who had approached the Students' Society separately, hoping to discover fellow knitters or, if no such club existed, to find out how to start one. The two were introduced and a couple of years and many skeins of yarn later, the club boasts around 45 members, with seven to ten people showing up for meetings on any given Tuesday.
And if you think this is a group for women only, one of the men who bring their own enthusiasm and knitting skills to the club is here to tell you you're way off base. Fourth-year student John Doyle learned to knit when he was 12.
"Knitting is very good for self-discipline," he says. "There's no instant gratification involved, and it also helps to develop manual dexterity." Despite being blinded during military service, Doyle, whose wife is expecting their first baby, plans to knit some booties for his offspring. And the three or four other men who are regular attendees at club meetings attack their chosen hobby with the same rigour and keenness as their female counterparts.
Miller recommends knitting to anyone looking for a sense of achievement, as well as a stress-free way to pass time between classes. It's also, she has discovered, a great way to make off-campus friends. "I've had other knitters start talking to me when I bring out my knitting on a metro or bus ride."
Although all take their hobby very seriously, the club atmosphere emphasizes fun, and the social potential that Doyle says men on campus might want to take into consideration. "It's a great way for a single guy to meet really nice, smart women," he says.
Club members contribute to the well-being of those outside campus by knitting mittens and toques which are distributed by the Salvation Army. They also hold knitting marathons, and offer friendship and support to any homesick student willing to pick up a pair of knitting needles or a crochet hook. Some, like Abigale herself, have ten or more years of experience and are eager to share ideas and patterns, as well as to help others with knitting or crochet-related problems. Beginners are assured a welcome, no matter what their knitting goals or experience.
Anyone interested in donating yarn or needles, or in joining the Knetwork can find information at ssmu.mcgill.ca/knitting.
The Tuques Bleues Race Again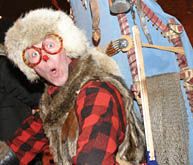 Owen Egan
It's one of the defining characteristics of Montreal. While folks from out west may raise an eyebrow when we refer to "the Mountain," there's no doubt Mount Royal holds a special place in the hearts of Montrealers. It's also dear to McGill, which occupies part of its southern slope, and so it was only natural that the University participate in an event organized in February by Les Amis de la montagne (Friends of the Mountain) to protect, preserve and beautify the site.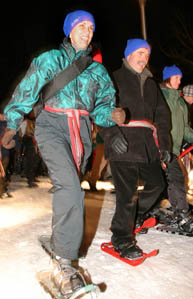 Owen Egan
"Despite our limited resources, most of which must be devoted to the University's educational mission, we have taken many actions to protect this natural and built environment that is so cherished by everyone," says McGill Principal Heather Munroe-Blum.
Munroe-Blum was on hand to preside over a 2.5-kilometre torchlight snowshoe race on Mount Royal. The roots of the event go back a long way. In the 1840s, local snowshoers sporting blue toques would gather each week in the winter to race through the woods of Mount Royal, and Les amis de la montagne have revived the tradition as part of their fundraising and awareness campaign. Nearly 700 participants turned out for this year's race and raised $200,000 in support of conservation efforts.