Homecoming 2003 was a tremendous time for reuniting with old friends, seeing what's new on campus, and taking part in some of the great events organized by the Alumni Association and numerous McGill faculties. Thousands of revellers returned to McGill from graduating classes ranging from the 1930s to the 1990s. Things got off to a sporting start with the Sports Hall of Fame Luncheon, where great McGill athletes from the past were inducted into the Hall and cheered on by family, former classmates, and jocks and sports fans of all kinds. Leacock Luncheon guest speaker Preston Manning, founder and former leader of the Reform Party of Canada, delighted an audience of over 900 with his wit and down-to-earth charm, earning perhaps one of the only standing ovations he's ever likely to receive in Quebec. "I spent nine years in the House of Commons," joked Manning, "being released in 2002 for good behaviour." The Lunch et Livres authors series at the McGill Bookstore featured novelists Andrew Pyper and Caitlin Sweet, and McGill's own chancellor, Dick Pound, who came bearing his latest tome, a history of the Stikeman Elliot law firm. Out at Macdonald Campus, the Sir William Macdonald Luncheon and the Gathering of the Clan Barbecue were as popular as ever, with participants coming from as far away as England, France and Singapore. Following are just a few Homecoming scenes caught on film by McGill News paparazzi. They should put you in the mood to start planning now for Homecoming 2004, which will take place from October 14 to 17.
Legal Eagles Reminisce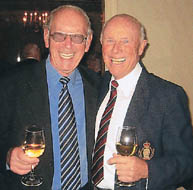 William I. Miller, BCL'53, and D. Reilly Watson, BCL'53, had a great time at their 50th anniversary reunion. The Law Class of 1953 party was held at the University Club of Montreal.
Flagball Reunion
Flagball is a longtime McGill tradition on the lower campus and these Homecoming participants were only too happy to get back onto the field for a reunion game.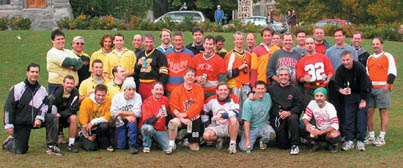 World Travelers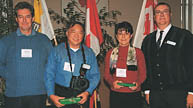 HCR Photo
Geoff Blanford, BSc(Agr)'68, James Chen, BSc(Agr)'68, and Joelle Hayek-Juppeau, BSc(FSc)'78, received gifts from Macdonald Homecoming Chair Pierre Langlois, BS(Agr)'78 (far right), as the graduates who had traveled furthest to get to the Mac reunion. Blanford returned from England, Hayek-Juppeau from France, and Chen all the way from Singapore.
A Fine Vintage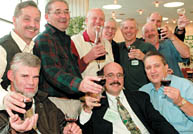 Andrew Dobrowolskyj
Members of the Food Science Class of 1973 at Macdonald Campus performed some quality control on a carafe of red wine.
Literati at Lunch et Livres
Nicolas Morin
McGill Chancellor and author Dick Pound, BCom'62, BCL'67 (right), is shown with novelists Andrew Pyper, BA'91, MA'92, and Caitlin Sweet, BA'93, at the Lunch et Livres event in the McGill Bookstore, which featured readings and book signings from the wordsmiths.
Swinging Anniversary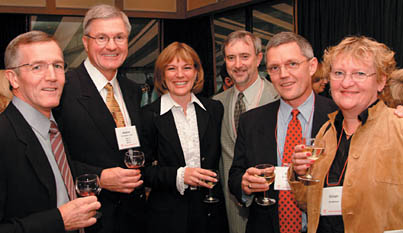 Nicolas Morin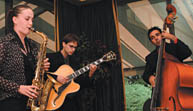 Guests at the 25th Anniversary Reception at the Bonaventure Hilton this year were members of the Class of 1978. Some McGill music students provided a jazzy background for the soirée.
So Who's Counting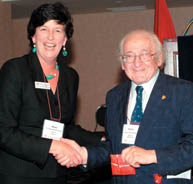 Nicolas Morin
Architect, artist, author and Montreal bon vivant Harry Mayerovitch, BA'30, BArch'33, received a McGill gift from Alumni Association Vice-President Morna Flood Consedine, MEd'77, DEd'85, as a representative from one of the earliest graduating classes attending Homecoming this year.
Manning the Podium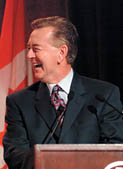 Nicolas Morin
Preston Manning cracks himself up at the Leacock Luncheon. For those who missed the event, you can read Manning's remarks online at www.prestonmanning.ca.

Bird on Birds
Professor David Bird (below) gave a tour of the Avian Science and Conservation Centre at Macdonald Campus. Stevie the owl, one of the Centre's residents, didn't seem to give a hoot about Homecoming.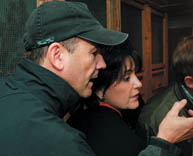 Andrew Dobrowolskyj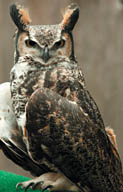 Happy Together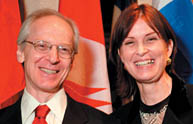 Nicolas Morin
Principal Heather Munroe-Blum and husband Len Blum at the Jubilee Dinner honouring the 50th anniversary class of 1953.
Rooting for the Redmen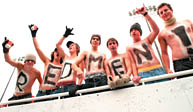 Owen Egan
Enthusiastic fans couldn't help the Redmen football team, who lost 26-9 to their rivals, the Concordia Stingers, in the 2003 Shrine Bowl Homecoming game.