McGill in Wine Country
The Northern California branch of the McGill Alumni Association organized a Sonoma Valley Wine Tour in October and participants took a little break from sipping to pose with the McGill flag.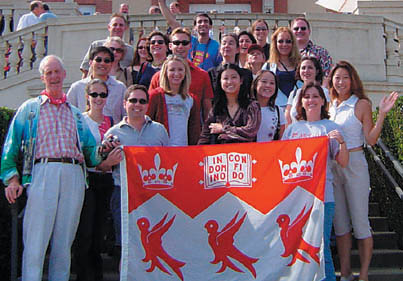 Rare Birds at the Redpath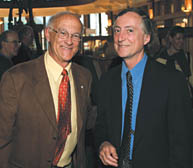 David Lank, a lecturer in the Faculty of Management and an ornithology aficionado, and McGill Biology professor Graham Bell, Director of the Redpath Museum, were on hand for the Museum's opening of "Rare Birds: Treasures from the Blacker-Wood Library," an exhibition of bird art featuring pieces selected from the Library's collection of drawings, prints and books. Treasures on display included the exquisite "feather book" of Dionisio Minaggio dating from 1618, in which the images are constructed of undyed feathers. The feather book can be viewed online at digital.library.mcgill.ca/featherbook.
Maritime Corn Frolic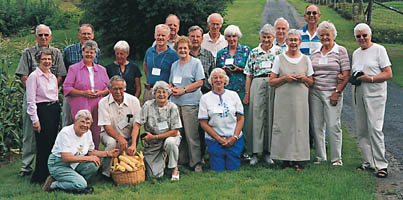 Members of the Agriculture and Home Economics Class of 1948 held a summer reunion in Fredericton, N.B., this past August. Participants picked their own corn for a supper at Everett Farm hosted by Fred, BSc(Agr)'48, and Kit Everett, BSc(HEc)'48.
The Long and Short of It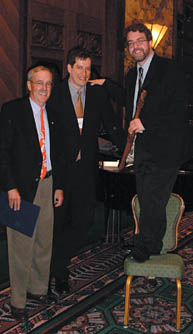 Novelist and vertically challenged humorist Will Ferguson took advantage of some furniture at the Four Seasons Hotel to stand tall at the Vancouver Leacock Luncheon held in October. Ferguson was the guest lecturer and is pictured with Vancouver branch president Todd Law, BEng'87 (centre), and Luncheon emcee Derek Drummond, BArch'62, Macdonald Professor of Architecture at McGill.
Send-off at the Dingle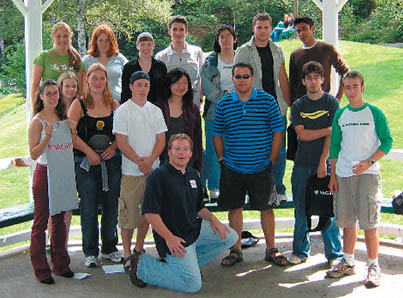 Haligonian alumni threw a send-off party for new McGill students in August at Fleming Park, also known as the Dingle, in Halifax.
New York Nightlife
McGill New York alumni took part in the 11th Annual Canadian University Alumni Reception held at the Penn Club in September with special guest Pamela Wallin, Canada's Consul General in New York and a former broadcaster and journalist with CTV and CBC.